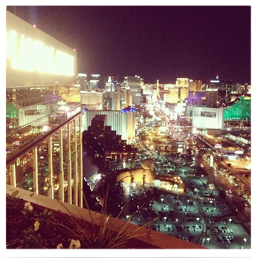 Photo Credit: City of Henderson per Sam Ratcliffe
Special Guest Blogger: Samantha Ratcliffe
Vegas is known as the world's playground with it's neon strip of hotel casinos, glittering production shows, and celebrity chef restaurants. This is the common image that ones mind conjures up when the word Vegas is spoken. What lies beyond the famous Las Vegas Strip though is a surprise to most people especially people who travel with their pets.
(editor's note: We are sharing this info for those of you vacationing with your pet on top of coming to all the fabulousness of the BlogPaws Conference).
As a Henderson resident I get to enjoy the glitz and glamour of the strip and the tranquil pet friendly areas of Las Vegas and Henderson.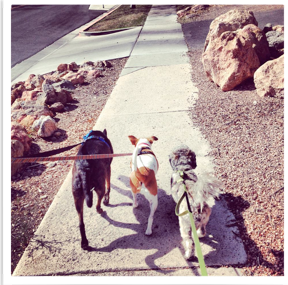 In recent years some of the hotels have realized that the traveling pet owner is a large demographic that was previously untapped. So with the addition of pet friendly rooms the city has seen an influx of pet owners choosing Las Vegas and Henderson as viable vacation destinations.
As a BlogPaws attendee you may be wondering what is there to do with your pet once you arrive at Lake Las Vegas located in Henderson. Driving into Lake Las Vegas is breathtaking and simply taking your dog for a walk in the grounds and along the marina is a pleasure you will enjoy everyday of your stay. The leash laws in Henderson dictate that all dogs must be leashed in public areas. This is important as coyotes and big horn sheep are common in the area. At this time of year the desert is dry and hot so plan to take plenty of water with you on your walks.
A ten minute drive from Lake Las Vegas is my absolute favourite Bark Park at Heritage Park. It's an impressive dog park that's five acres in size split into three areas. These areas are defined by small dogs, big dogs, and the agility park. It has all the amenities a pet owner would look for with poop bag stations, water fountains, and shade. The park is also surrounded by a walking trail.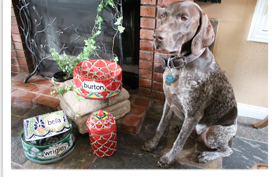 You won't have to go far to shop, eat, and listen to music. All of these can be found within Lake Las Vegas itself.
MonteLago Village is a Mediterranean-styled resort with many restaurants, stores, and a marina.  Most restaurants have patios and accept well behaved pets. With a great selection of cuisines, coffee, and gelato your tastebuds will be more than satisfied.
I recommend all pet lovers stop by Tesoro for pet accessories and pet bowls. Pick up something unique for yourself too. Peruse the unique jewelry, men's accessories, hats, belts and purses. Mexican-inspired wall art, crosses, furniture, hand-carved sculptures and milagros, and even Day of the Dead inspired artifacts.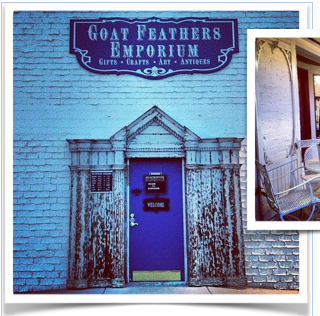 For your listening pleasure each and every Saturday music can be heard lakeside. Grab a picnic blanket and your dog and enjoy the Saturday Night Lakeside Music series.
A short drive out from Lake Las Vegas is historic Boulder City. The city came into existence as workers flocked from all over the country to work on one of the greatest man made structures in this country's history Hoover Dam.
Enjoy the quaint antique shops, cafes, and ice cream parlors in Boulder City where you can sit on the patio and partake in some true rest and relaxation.
While visiting Boulder City plan on seeing Hoover Dam. To not pay this magnificent structure a visit would be a missed opportunity. Hoover Dam is a popular location that is well trafficked by people on foot and in their cars so be mindful of keeping your dog leashed and under your control at all times.

How about taking a long scenic walk with your dog? Just a quick drive from the main drag in Boulder City towards Lake Mead is the Historic Railroad Track. The tracks have since been long gone from the days when Hoover Dam was built, but what remains is a flat walk high above the Lake that is stunning and takes you on a journey through the train tunnels themselves. The entire trail is seven miles long so prepare for the time and length of walk you choose to take. Personally I like to go through the first five tunnels and then make a turn around to head back.
Water, a basic first aid kit, and camera would be my top tips for this particular walk. If you want to learn more about this walk and others in the area I recommend the book Best Hikes For You and Your Dog Vegas and Beyond.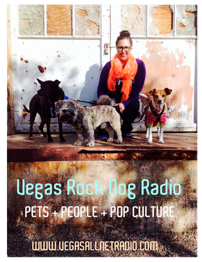 Las Vegas and Henderson offer you a contrast from glitz to natural beauty and everything in-between. I wish you and your dog a wonderful stay and much fun exploring the area with your furry best friend. – Sam
Samantha Ratcliffe-D'Arrigo is a British born Las Vegas based radio host, designer, and animal lifestyle expert. She lives in las Vegas with her professional musician husband,  James D'Arrigo and their three dogs:  Galaxy Thornton, and Mr Twix. This former professional dancer and choreographer began her clothing company Vegas Rock Dog™ in 2005. Vegas Rock Dog quickly expanded to include event production benefiting animal rescue. Notable events include Funny Bones All Star Comedy Jam, the original Yappy Hour©, Studio Fifty Paw©, and Barkingham Palace A Royal Dog Wedding.
The Vegas Rock Dog Radio show focuses on pets, people, and pop culture. The Queen of Rock 'n' Roll Dogs broadcasts live from Las Vegas featuring cool guests, experts, and great advice all in one rocking hour. Samantha is a frequent guest on Fox 5 Television as their Pet Pal Pro and British Insider.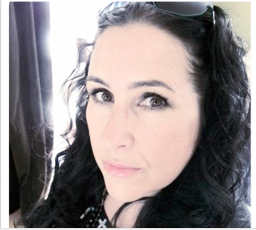 Website www.vegasrockdogradio.com
Ustream http://www.ustream.tv/channel/vegas-rock-dog-radio
Facebook vegasrockdogradio
Twitter @vegasrockdogsho @vegasrockdog
Archived shows www.vegasallnetradio.com
Listen live http://vegasallnetradio.com/Shows/Vegas-Rock-Dog-Radio.html
Instagram @vegasrockdog
Gear www.vegasrockdog.com