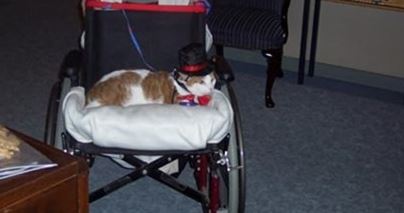 Have you ever wondered about the life of a therapy cat? We found a great article on Pet360 that gives a behind-the-scenes glimpse into what a therapy cat does.
What goes into becoming a therapy cat?" In order for a cat to be registered as a therapy pet, the cat must be social, sit nicely on a lap or pillow (or in Popsicle's case sit in a wheelchair), tolerate strange surroundings and being touched or held. In addition, the feline must be current on their vaccinations and annual physical exams."
If you want to read the rest of the piece about therapy cats and get to know Popsicle, you can read it on Pet360.
Do you have a pet who is a therapy animal? Whether cat or dog, we'd love to hear about him or her in the comments below!