Post by Blog Manager Robbi Hess
What does giving mean to you? Presents under a tree? Donations to a favorite charity? Saving a pet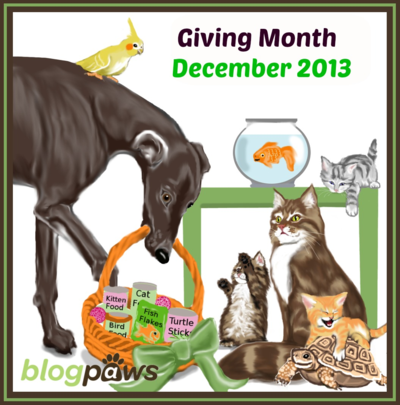 from life in a shelter or life on the streets? When we, at BlogPaws, think of Giving Month our mind automatically turns to "how can we give back to animals in need?" Whether it's a pot bellied pig, a guinea pig, puppy, kitten or senior pet, there is a constant need to help those animals that are in shelters or are being taken care of by rescue groups.
You can't obviously take in every pet in need (I have four cats in my house right now because each of them were in need of adoption and I just couldn't say no — we've had up to six cats and two dogs at one time… it's a lot of work and expense) but what if you make a resolution to help at least one animal in need? How can you do that?
There are many ways to get involved and help make a difference in the life of a shelter pet or a pet in a rescue and here are our tips:
I've written on #BlogPaws about virtual pet adoption. What this means to me is that you reach out to a shelter or rescue and offer to provide funds or blankets or to come and walk or otherwise care for an animal they have there. You may not have room in your home for an additional pet, but if you have time in your week you can spend time with a pet and give him some much-needed socialization. Send funds to care for a particular animal so you feel you are truly making a difference at least in the life of that one pet who is waiting for a forever home.
Do you have skills with a camera? Offer to photograph the pets and put their photos on Instagram or Pinterest or your other social media pages to help them get adopted. A pet who is out of doors or in a funny pose will have a better chance of getting adopted than one who is simply photographed through the bars of his cage.
Speaking of social media. If you have the time and the skills and if you find that your shelter doesn't have a robust (or any) social media presence, offer to become their social media manager. Post information about pets, upcoming adoption events, success stories of pets finding new homes, photos and information about new pets coming into the shelter and even photos of the volunteers and staff who give so much time and effort to these pets in need.
Call a shelter or rescue and ask what's on its wish list. Do they need kitty litter? Additional dog or cat food? Blankets for the crates? Cleaning supplies? Rather than donating cash (although they all need that!) shop for some of the items on the wish list and deliver them to the shelter.
Offer to host a fundraiser or coordinate a food drive or other event that the shelter feels will benefit the pets and its cash flow. If you have the skills of organization and enjoy fundraising this might be a natural fit!
What can you do to give back to a shelter during Giving Month and throughout the year?