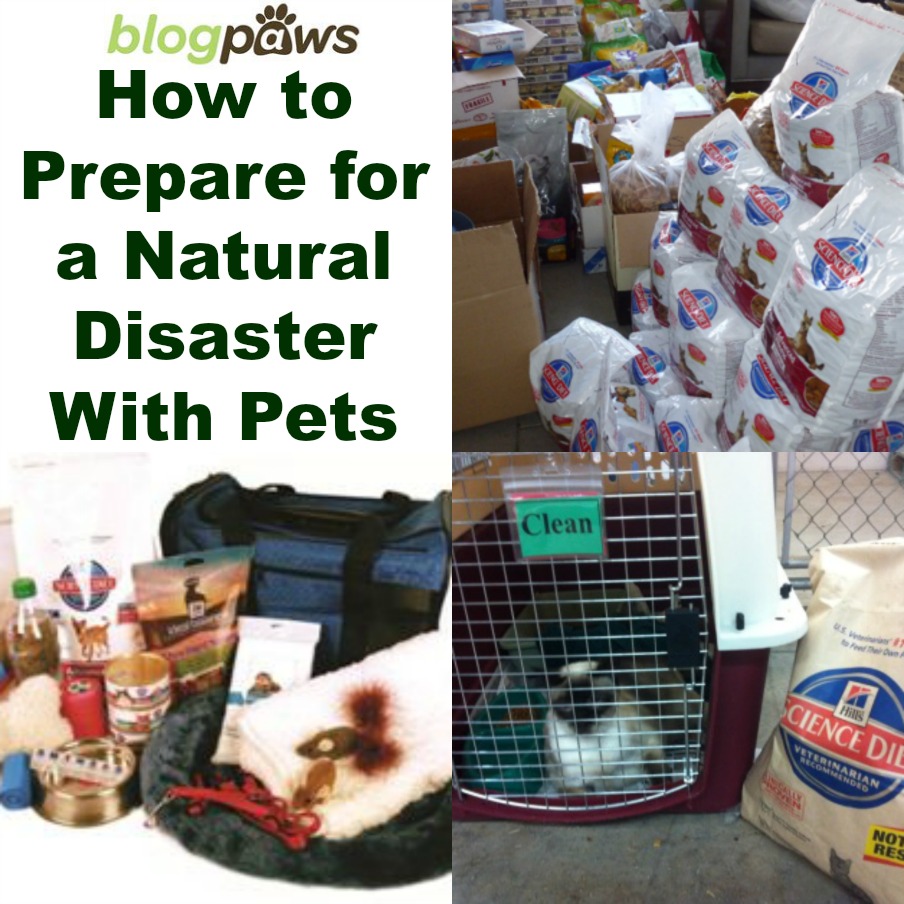 With rising temperatures and spring showers giving way to seasonal storms and wild fires, today, Saturday, May 9th, is National Animal Disaster Preparedness Day. Loving pet parents know the importance of having a disaster plan for your pets in place—but many people do not. Knowledge and information on such pre-planning is a powerful tool when faced with a situation requiring quick response or evacuation
Our friends at Hill's Pet Nutrition remind pet parents about the importance of being "pet prepared" in the event of an emergency. While families typically have disaster plans in place, they may often overlook the importance of having specific plans and preparations relating to the family pet. In coordination with National Animal Disaster Preparedness Day on May 9th, Hill's is taking the opportunity to share best practices for pet parents to be ready for any type of an emergency.
Be Prepared
Share this post on social media and with family and friends who have pets. No one wants to face the fear of not knowing what to do should an urgent weather emergency arise. Here are seven tips to ensure your pet is safe in an emergency situation:
Ensure your pet can be identified by either a microchip or collar ID tag and that contact information is up-to-date
Prepare a "Pet Emergency Go-Kit" of pet supplies that is readily accessible in an emergency. Your Pet Emergency Go-Kit should include: first aid supplies and guide book; three-days' supply of pet food (in a waterproof container) and bottled water; a safety harness and leash; waste clean-up supplies; medications and medical records; a contact list of veterinarian and pet care organizations; information on your pet's feeding routine and any behavioral issues; comfort toys; and a blanket
Display a pet rescue decal on your front door or window to let first responders know there is a pet in the house. Include your veterinarian's contact information
Learn where your pet likes to hide in your house when frightened. Finding your pet quickly will help you evacuate faster
Identify a location to take your pet if you need to leave your immediate area. Keep in mind that disaster shelters for people may not be open to pets. Scout hotels and motels with pet-friendly policies and ask relatives or friends if they could house you and your pet
Carry a picture of your pet in the event of separation
If you need to evacuate, consider taking a pet carrier or crate for transport and safe-keeping.
Ellen Lowery, Director of U.S. Veterinary and Professional Affairs at Hill's Pet Nutrition says, "Just knowing that a kit is packed and ready to go should eliminate some of the stress during an emergency. It will put a family at ease, knowing that everyone, including their beloved pets, will be taken care of."

Have a Pet Emergency Go-Kit Ready
Items to pack in advance include:
Pet Emergency Go-Kit Contents
Basic first aid supplies
A 3-day supply of bottled water and the pet's preferred food, held in a waterproof container
Safety harness and leash
Waste clean-up supplies
Medications and a copy of the pet's medical records
List of veterinarians and local pet care organizations
List of the pet's feeding routine and any behavioral issues
Comfort items, such as a blanket or favorite toy, to help keep the pet calm and comfortable
By the Numbers
Disaster is all too real and we've all seen the images on television of pets being abandoned and perhaps needing to be rescued from floods, fires, and other natural disasters.
In 2013, Hill's expanded its Food, Shelter & Love® program – through which it provides Science Diet® brand food to more than 800 shelters nationwide – to create the Disaster Relief Network. The first-of-its-kind network was established in 2013 as an extension of Hill's Food, Shelter & Love® program, which has donated more than $280 million worth of Hill's Science Diet® brand foods to over 1,000 shelters in the United States and helped more than eight million pets find new homes.
According to a paper published by the University of Colorado – No Place Like Home: Pet-to-Family Reunification After Disaster – more than 200,000 pets were displaced after 2005's Hurricane Katrina, and 95 percent were never reunited with their families.

Make a Plan
The team at Hill's Disaster Relief Network recommends that pet parents take steps to being "pet prepared" if a disaster should occur. These include scenario planning, as well as creating a Pet Emergency Go-Kit, which can be quickly accessed during a disaster event.
Do you have a disaster plan in place that includes your pets? Let us know in the comments below.