Post by Blog Manager Robbi Hess
When I see the pictures that scroll through my Facebook and Twitter feeds of pets in need of adoption, those that have been abused and stories of overcrowded shelters, it's all I can do to not "unfriend" or not follow those pages. It breaks my heart and honestly, if I could I'd probably bring even more pets into the house than I already have. I know I can't — and not just because the Diva Poodle Henrietta would lose her mind — but because I know I need to give attention to the pets I already have and worry about being spread too thin. Four cats, two dogs and a bearded dragon take a lot of time (and money in vet bills) and attention. 
What can I do? I certainly don't want to lose the ability to share posts with people and enhance the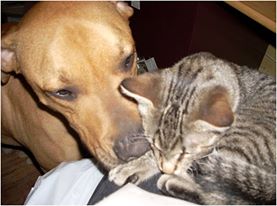 chances of a dog, cat, bunny, ferret, horse or guinea pig finding a new home. The more often and the wider the audience you share those posts with the higher the chance those pets will find a forever home, right? 
 What's an animal lover to do? Could you get involved in any of these ideas?
Virtually adopt a pet. Contact your local pet shelter (or breed rescue) and ask if there is one pet you could "virtually adopt." By doing this you will likely get a photo of that pet and get updates on him or her. You would want to send either cash donations or donations of items the shelter has on its wish list. You could be involved in spreading the story and pictures of that pet you've adopted. Making a difference in the life of one pet seems less daunting to me than "trying to save the world." 
Volunteer at a shelter. If you know you simply cannot work with the kittens or cats because you'd be bringing them all home with you, then volunteer to help with the dogs. Get your kids involved — it's a great way to teach the spirit of volunteerism and caring for others.
Ask your friends and family to either give you cash which you will donate to a shelter or rescue or ask them to donate to the rescue in your name. What better holiday gift than to give to animals in need?
Ask your church, religious group or even professional organizations to which you belong if they'd be willing to donate items to your local shelter. Shelters need items that include towels and blankets (they can be used or worn) newspapers, kitty litter, food, cleaning supplies (make sure you find cleaning supplies that are pet friendly). Kick off your own fundraising or donation gathering effort. 
If you do the above, contact your local newspaper and tell them that XYZ Group came together and are making a donation to the shelter and a) would they come and cover the passing of the donation or b) you could send in a press release with a photo to the local paper. As a former newspaper reporter that covered lifestyle topics, those feel good calls or submitted press releases were welcome fodder. Additionally, if it's a "slow news day" or if the paper is looking to fill a space with some good news around the holidays, they may follow up on your press release submission and do a story on the shelter, bringing it even more attention. 
Do you have a pet that might be ideal as a therapy animal? Check into the requirements to have your pet deemed a service dog or therapy dog. Once your pet has earned his or her designation and passed the required classes you can give back by visiting senior citizens at nursing homes or hospitals. I've seen both the calming effect that these animals have on the patients as well as the looks of pure joy and contentment when a dog climbs up on a patient's lap and that patient can pet him. There is nothing quite like the unconditional love a pet gives. 
 What will you add to your holiday to-do list when it comes to pets in need?