Guest post by Diane Silver
It's not always easy to motivate to get off the sofa and out to the gym. But with a little help from your own canine coach, there are plenty of activities you can do together to get and stay in shape.
Did you know that more than half the people and pets in the U.S. are overweight or obese? It's a growing epidemic worldwide, but
by getting active and eating the right foods you and your pup can stay on the healthy track.
Being physically active and eating fewer calories can help you lose and keep weight off, and the same goes for your pup. But if heading to the gym doesn't appeal to you, here are five fun ways to get active, and your dog gets to participate too!
In addition to increased activity, a high-quality diet can help keep you and your pup in top form.  Your veterinarian can help you choose the best food for your dog's needs.
If you're pressed for time or aren't too handy in the kitchen, there also are healthy options for you from companies that provide convenient chef-prepared gourmet meals (for humans, not dogs!).  In Atlanta and the southeast, we love Fresh 'n Fit Cuisine.  Use promo code DIANE10 for 10 percent off your first order!
Getting or staying in shape not only helps you look better, but even more importantly, it helps you feel better from the inside out.  Working out with your dog can help relieve stress, lower your risk of developing diseases associated with obesity (such as heart disease), and give you more confidence and energy.
And what's even better, it's good for you and good for your pup, too! Just remember, before starting any new fitness regime, it's important for both you and your dog to get a checkup and clearance from your doctor and veterinarian.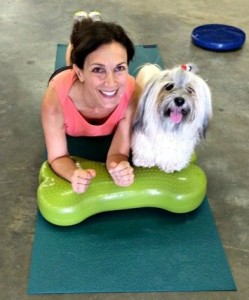 What are you waiting for? Get off your butt and work out with your mutt!
About the author: Diane Silver is a certified K9 Fit Club Trainer in Atlanta and the creator of the blog To Dog With Love, where she shares adventures of her active life with her Havanese, Rocco.