Post by Blog Manager Robbi Hess
I sometimes find myself, during the course of the week, not visiting or interacting as much on Facebook as I have in the past. Gasp! Want to know why and where I am? Actually, I've been where the pet parents are: The BlogPaws Community. 
While I do love my friends and followers on Facebook and Twitter and Pinterest, when I am looking for outright pet-centric discussions, I have been heading to the BlogPaws Community.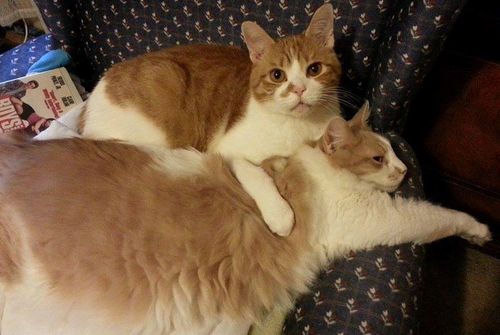 This week, for example, Tom Collins (BlogPaws' Left Rear Paw) started a discussion about The Art of Cross Promotion. In the discussion, he pointed to a longtime friend and fellow pet lover, Denise Wakeman's post, "I'm A Google Fangirl" Tom writes: " In her post, Denise provides great information about why we should all be getting more comfortable with Google+ — but the magic for me is in how wonderfully she weaves cross-promotion of others into every corner of the post.
She's telling the story of how much traffic mileage she and her guest got from a Hangout on Air ("HOA" – a live and recorded video webinar). A big part of the story is how the HOA was written up in several blogs and how those savvy bloggers seized the opportunity to create or renew relationships with Denise, each other, and whole new audiences." (Click on the link above to read the Google Fangirl post in its entirety). 
As pet bloggers, pet lovers, and pet consumers how can we/you embrace the art of cross promotion? What do you do, or what are you doing, do be a savvy blogger as mentioned in her post and in the discussion? We'd love to hear your magic bullets. Add your comments to the community discussion so we can all work together to promote each other! 
Whether you're new to BlogPaws, blogging or the BlogPaws Community, the Newbies Community group is one of our most active. Questions posed within the group garner a lot of conversation and newbies are welcomed with open paws when they have a question about blogging, analytics for their site or even where and how to get ideas to keep their blog going. If you haven't already, check out the Newbies Community. 
On our blog last week we once again brought you a plethora of useful and fun information. What did you miss?
Are you ready for Black Friday or Cyber Monday? We, here at BlogPaws, are cooking up some deals and you won't have to brave the crowds, leave your Thanksgiving meal or even get up early to be eligible. Stay tuned! 
Don't forget to put "Registration for BlogPaws 2014" on your holiday wish list! 
Spend some time this weekend catching up on our blog post and chatting in the Community. Can't wait to see you there!