Post by Robbi Hess
Jingle Bells. Deck the Halls. Knock the ornaments off the tree! Such are the things I deal with because I have two cats and two kittens in the house — the kittens, though are more than a year old, they are actually pushing two years old, but to them every day and every new item is an adventure. The Christmas tree with its piney, sappy, needle-filled branches is as close to the outdoors these felines see, especially since we've moved the houseplants to shelves so high they can't reach them and I forget to water them.
Many years ago I gave up on the idea of having "icicles" for decorations because I heard that cats are drawn to them, but can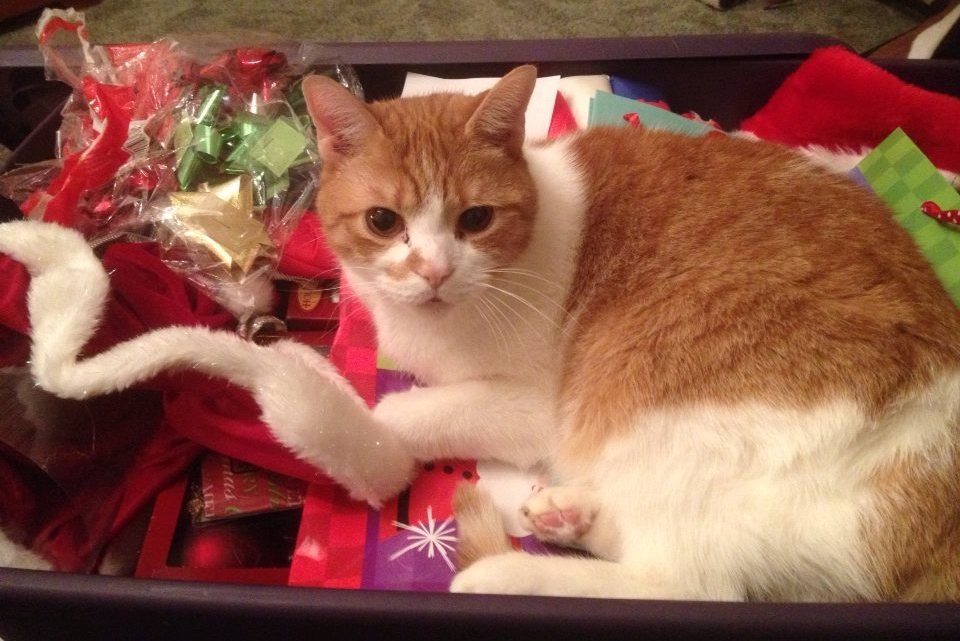 choke on them. I've also given up on having any of the "good" ornaments on lower branches, or for that matter, in the front of the tree where I can enjoy them. For as curious (and I have to admit, annoying) as my kitties are, they get skittish and problematic when the house fills with guests.
Here are my tips for keeping your felines safe, healthy and happy during the holidays and year-round although caring for cat health at the holidays and year-round:
No icicles on the tree. Oh, I also discovered I shouldn't have my silvery green garland either, they tugged it off the tree and I found them running around the house with clumps of it in their mouths.
No ornaments hung with the old fashioned fish hook type hanging implements. We now run strings through the ornaments and wrap the strings around the branches to hold them in place… speaking of which
No fragile glass or heirloom ornaments. If the kitties (Lucy!) climb the tree to bat at the treetop angel and ornaments fall to the floor, they must be non breakable.
Don't use any chemicals in the tree stand to keep the tree fresh. Use water only so your pets will not ingest anything that can make them ill.
Tree stands sturdy enough to withstand two (sometimes all four) of the felines rough housing under, around and on the tree, the skirt and the lower branches. I believe our tree stand could handle it if Big Foot tried to come in and topple it.
Lock them in a room when guests are arriving; this is especially important when the guests are first arriving and when they leave. Our kitties aren't particularly fond of strangers, but then they aren't particularly fond of being left out of the action so they try to slink into the foyer and nose their way toward the door or into the hall closet. Locking them safely away relieves the pressure of having to do a head count every time the door is opened.
Table scraps are as much a no-no for cats as they are for dogs. Keep your pets to their usual meal time routines. Move food dishes and litter boxes to areas where your cats can eat and do their business in relative peace.
We have two cats with claws and two without. The two with claws are more than happy to use them if they're being manhandled by a guest or an unruly toddler; the two without claws are well-versed in how to use their teeth to get away from being mauled. Again, your guests will likely want to see and cuddle your pets, but unless your pets are accustomed to it, there could be biting and scratching incidents.
Many plants are poisonous to cats — not only at the holidays but year round you need to be aware of the types of plants your pets may have access to.
If your cats go out of doors, you need to make certain you do not start your vehicle without first tapping on the hood of the car or beep the horn. A warm car engine is a magnet to a cold cat and if she crawls up inside the engine and you start it without checking, serious injury can occur.
Get your pets microchipped. If they are microchipped, make certain the contact information is up to date in case your pet gets loose during the frantic holiday comings and goings.
Holidays can be stressful for everyone so even in the hustle and bustle of it all, set aside time to snuggle with your pets by the glow of the Christmas tree lights (that is if any of them are still left on the branches!)
What steps do you take to make certain your pets are safe and happy during the frenetic holiday times?