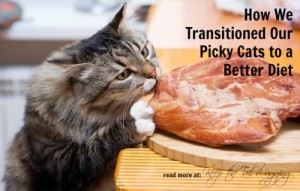 Editor's Note:  During June, which is Adopt A Cat Month, we are hosting a blog hop in which we asked bloggers to link up and share their cat adoption stories with us.
Join the blog hop here.
Today we wrap up our month's worth of posts with a post at Keep The Tail Wagging explores how to get past your cats looking at you and seeming to say, "this witch is trying to poison us" to embracing a new, healthier diet.
Have you ever tried to transition your pets to new, aka healthier, diets? How did it work out?
You can read the post here.