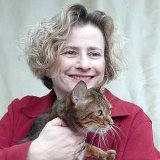 Join us at our first #BlogPawsChat of 2013 with special guest, cat behaviorist(and BlogPaws member) Marilyn Krieger. You may know Marilyn from Animal Planet's Cats 101, from her monthly articles in Cat Fancy magazine or on their catchannel.com website, or her award winning book, Naughty No More.
Marilyn uses friendly, positive behavior modification techniques, education and clicker training to help people dealing with troublesome cat behaviors, and the cats love it! Check out her great website, TheCatCoach.com.
Bring your cat questions and issues to #BlogPawsChat on Tuesday, January 8th,
from 8:00 pm to 10:00 pm ET on Twitter.
Log on to Twitter and use hashtag #BlogPawsChat to join the conversation. Be sure to follow our Host Kristin Dewey @BlogPaws and guest Marilyn Krieger @The CatCoach.
#BlogPawsChat is now twice monthly, on second and fourth Tuesdays of each month. See you there!