Happy Friday!
What are your weekend plans? If you're like many pet bloggers who are balancing work, family, social and community obligations, and so much more, you probably spend the weekend catching up on your blog. Or maybe you use your weekend to catch up on reading and commenting on all the blogs you love but just didn't get to this week. Or scheduling next week's social shares.
Instead of spending a long weekend tied to your computer, try something radical: Give yourself a break.
Seriously. You deserve it.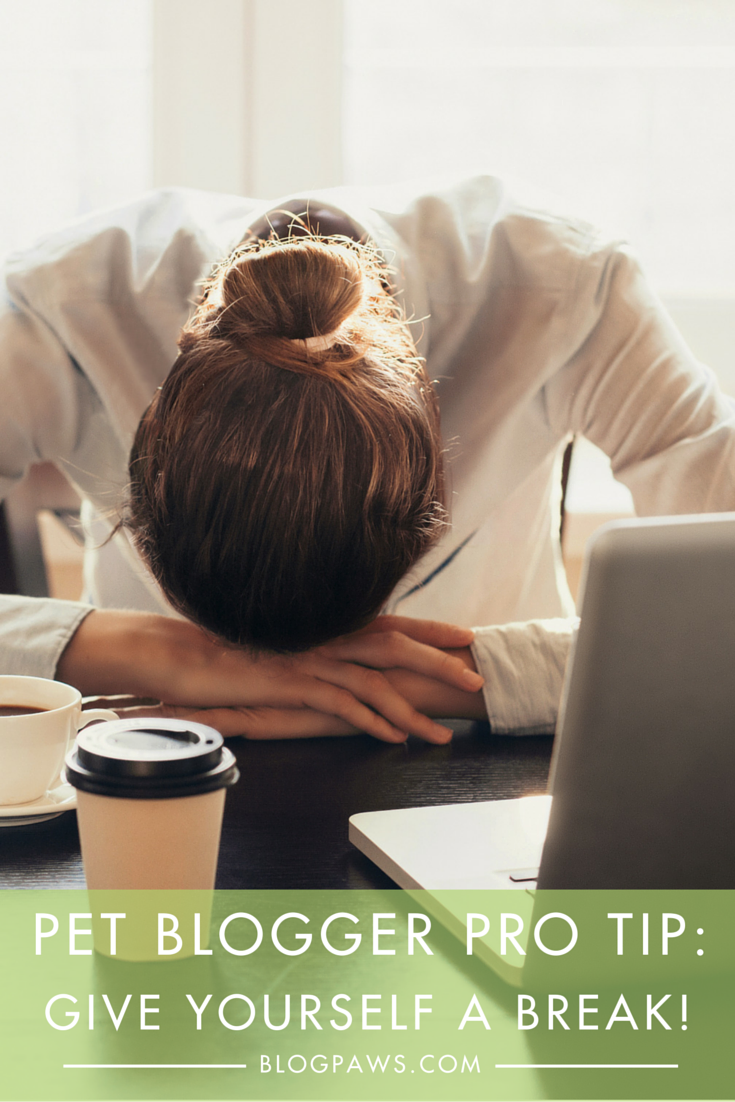 I know it's easier said than done, but it's far more important to take breaks–physically and mentally–than to push yourself to burnout.
Here are three ways to give yourself a break:
Don't compare.
How does she get it all done? I wish I had as many followers as he does. It's an easy trap to fall into, to not feel like you're doing enough or good enough. But you are.
Cut yourself some slack by focusing on your own journey. Go back and read some of your first posts or your earliest Facebook shares. Jot a list of lessons learned over your time blogging. Remember how far you've come, and stay committed to telling your story–not anyone else's.
Take a day (or a weekend!) off.
Your blog and your readers will still be there if you give yourself a break and take a day off. Get outside. Play a new game with your cat or take your dog hiking in a new park. Refresh and recharge by experiencing the world around you rather than the world behind your computer screen.
Instead of stressing about squeezing in all the posts and social shares you aim for each week, put up an "out of office" post and take some time to reconnect with the world around you. Your readers will wait, and they'll love the fresh content you come up with as you recharge.
Celebrate!
Sometimes we get so caught up in setting the next goal and planning the next to-do list that we forget to celebrate the goals we achieve and the tasks we complete. Big or small, celebrate your wins!
Make it visual so you can see the reminders. List all your wins on sticky notes and put them above your desk. When you're feeling tense or starting down that not-good-enough path, read through all your victories.
How do you give yourself a break? Do you spend your weekend toiling away on blog tasks? If so, how can you infuse some time off–even a couple hours–or some celebrations to let yourself off the hook a bit this weekend?
Maggie Marton serves as the BlogPaws senior editor. When not hiking with her two pit mixes, Emmett and Cooper, or playing with Newt the Cat, Maggie writes about them (and the pet industry) at ohmydogblog.com and maggiemarton.com.
Image: Kite_rin/Shutterstock.com