What are your plans for the weekend? Maybe you should finally start that pet blog you've been dreaming about. Starting a blog is easy and it can be done in just one weekend. In this post we are going to tell you how.  Snuggle up on the couch (with your pets, obviously), grab a cup of your favorite beverage and let's get your pet blog started!
Step 1 – Select a Blog Topic
What do you want to blog about? Make sure that this is a topic that you could write about for many years to come.
Step 2 – Create Your Blog Name
You'll want to select a blog name that accurately reflects your topic and your personality. Remember this name is going to become part of your brand.
Step 3 – Purchase Your Domain Name
Once you come up with a name you'll want to make sure that it's available as a domain name. A domain name costs money, but it's really affordable and some can be purchased for under $10!
You also want to secure that same name on various social media channels such as Facebook, Instagram, Twitter, and Pinterest.
Step 4 – Purchase a Hosting Package
A blog host is where you "rent" space online so that your blog will be visible to the world. Hosting is available for a monthly fee or you can pay for a full year at one time to save a few dollars.
Step 5 – Install WordPress
WordPress is a platform that you install to your site in order to give it the functionality of a blog. WordPress is the industry standard because it's easy to use, and there is a ton of documentation and tutorials available.
Step 6 – Design Your Blog
WordPress comes with a free theme. A theme is what gives your blog a certain look and feel. You can use this free theme, or you can purchase and install a custom theme of your choice.
Step 7 – Create Five Blog Posts
Before you launch, you should create at least five blog posts to get started. Some ideas for those posts include:
An introduction about you and what to expect on your new blog.
Why you are so passionate about the topic you're blogging about.
10 tips related to your blogging topic.
A how-to or tutorial related to your topic.
A roundup of your favorite resources.
Read This: How to Survive a Blog Launch
Ready to Start a Pet Blog? Get Our FREE Starter Kit!
This is the quick and easy on how to start your pet blog. There's a lot more to each of these steps! That's why we've created the Pet Influencer Starter Kit. This is a free course that will walk you through each of these steps in detail. Plus, the course dives into how to promote your blog and how to make money with your pet blog!  Join the BlogPaws SLC (it's free!) to get access to the Pet Influencer Starter Kit. Plus, as a member of the BlogPaws SLC, you get access to our other courses, private groups, and a huge community of pet influencers that are here to help you.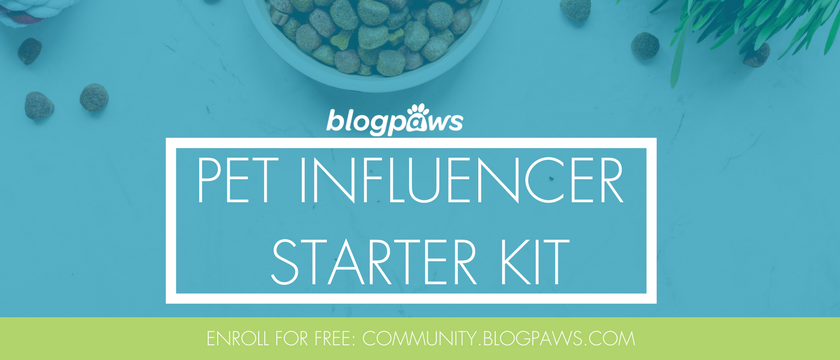 Now what? Join the discussion!
What questions do you have about starting a pet blog? Leave a comment down below and join the discussion.
Aimee Beltran is the Director of Community Education for BlogPaws. She also writes two blogs, Irresistible Icing and Irresistible Pets with her Chihuahua, Chuy. Aimee is passionate about her mission, "create an irresistible life you can't resist!" She loves anything with glitter, kayaking, and spending time at the beach.
Images: Stokkete/Shutterstock.com