As an influencer, it should be top priority for you to be following the rules and regulations of the influencer marketing industry. Hopefully you do your best to keep up with the information as it comes down from the FTC, and you aren't dragging your feet to implement change.
Be at the front of the curve so that you protect yourself and the brands you work with. Influencer marketing is changing rapidly, and we need to keep up, not catch up.
I have been asked why I spend so much time educating about the guidelines.
It's simple: If we want brands to pick us when they want to promote their products, we need to be ready to protect them. Yes, as an influencer we are part of the marketing industry, and it is up to us to do things right and not 'fudge' the rules. I have also heard that people don't like putting the disclosure at the top of the post because their readers don't read the post. That's not a good excuse to put yourself in jeopardy or to put your sponsor at risk of a fine.
Your content should speak for itself. As an influencer, your readers should feel comfortable with you and believe in what you are sharing. They appreciate the fact that you are being honest and open with them. On the other hand, if you have so much sponsored content it is turning them off, it is time to evaluate if you are being true to yourself and your brand by working with so many different companies. That is not a disclosure issue that is an authenticity issue. Before you say yes to a campaign or project, figure out if it really makes sense for you! If it does and you show how well the product or service works for you, your readers should be interested enough to check out what you have to say.
If your readers don't like it when you talk about a certain brand, that is something that you need to look at. Are you saying one thing in your evergreen work and another in your sponsored work? Of course something like that would turn off your readers.
Just like you have to be transparent with your disclosures to your readers, followers, and fans, you have to be transparent with Google. Nofollow links are the way you tell Google's bots that this is sponsored content or there is some sort of relationship between these two sites. Like with your readers, the bots should say, OK this is sponsored content but people are engaged and interested. People are clicking links to this post, commenting, and sharing it on Social Media, so it must be a good resource.
By following proper disclosure guidelines, you are protecting yourself, your sponsor, and your readers.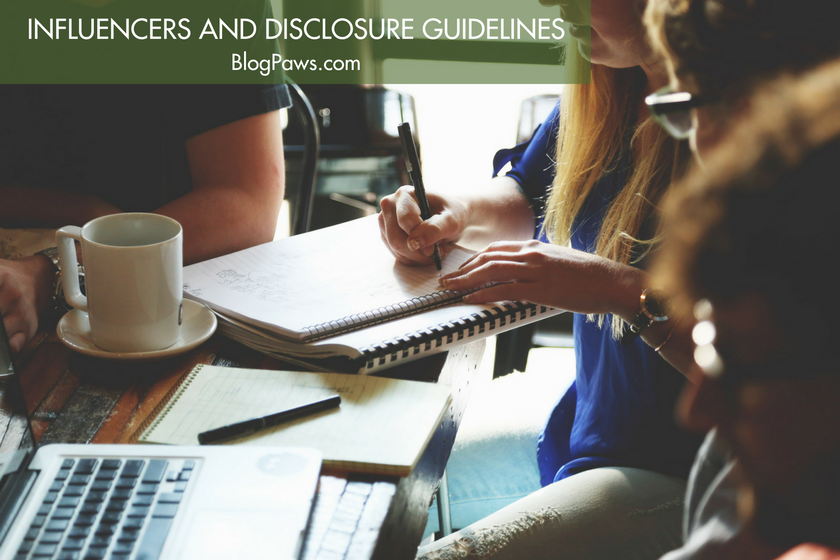 How and where to disclose:
At the top of your blog post BEFORE any outbound links.
All outbound links must include nofollow code.
Tweets should include the #ad or #sponsored hashtag. These are the ONLY two acceptable disclosure hashtags. Your disclosure needs to be clear and conspicuous. Too many additional hashtags makes it so that your follower does not "see" the word ad or sponsored.
Shares on Facebook should also include the words ad or sponsored in the content in a place that will be seen and not truncated. You need to make the relationship obvious to those who see the post.
Shares on Instagram should have the hashtag #ad or #sponsored before any other text appears. This is a new ruling so now is the time to start implementing. The right brands take notice when you are in compliance with FTC guidelines.
You need to disclose on Pinterest, too. I see so much sponsored content here that does not have the #ad or #sponsored hashtag and is not called out in any other way. Take the extra 15 seconds and make it happen.
Video Killed the Radio Star… Well, not really, but if you follow influencer news it certainly has gotten a lot of very influential gamers and their sponsors in hot water. Any video created in conjunction with a sponsored posts needs to include your disclosure in the video.
Pro Tip: When creating sponsored video posts, the FTC disclosure must be spoken out loud or displayed on screen. It is not enough to have it in the video description.
This year BlogPaws has worked with two pharmaceutical companies on campaigns promoting prescription products. That means on top of nofollow links and following FTC guidelines, these bloggers had to comply with FDA requirements as well.
When working on regulated products, whether sharing content in long form (blog posts) or short form including Twitter, a link for more information must be included. This link must go to a printable PDF of the product insert including but not limited to dosing guidelines, side effects, and FDA trial information. It also needs to be clear that for more information about that product to click the link. The FDA keeps a close watch on all promotion of prescription products.
Know what you have to do in order to keep yourself and the sponsor safe. Not only does the link provide valuable information but in showing your compliance more and more companies will see that we as a company and you as an influencer are following the guidelines that they have to abide by in all marketing of their product.
What questions do you have about following guidelines? How can we help you troubleshoot these various requirements? Let us know in the comments!
Felissa Elfenbein is the Director of Influencer Marketing for BlogPaws. During the day Felissa can be found creating proposals for new campaigns, on the phone with brands, working on VIP events for the conference, and Skyping with the Pet360 Media Sales Team. Felissa lives in the Northeast Georgia Mountains and has two senior Cavalier King Charles Spaniels better known as the Two Little Cavaliers.
Save
Save