Whether you can make it to Lake Las Vegas for the swaggiest BlogPaws Conference ever, everyone is invited to the May 10th #BlogPawty on Twitter from 7-9 pm Pacific Standard Time (Vegas time, baby!)
Be part of the festivities, even from home, as you watch the live streaming when Pet 360 presents the 2014 BlogPaws Nose-to-Nose Pet Blogging & Social Media Awards presentation, congratulate the nominees and winners, and play for pawty prizes! Dress in your red carpet best (or not!) and enjoy virtual cocktails and noms. We suggest you stock up at home and nosh along with us! Maybe even have a Nose-to-Nose Viewing Pawty at your place! Woohoo!


Our awesome staff is volunteering their Barktending, Quizzing, DJ and Pawleece services so we can give a $1,000 donation to the Those Left Behind Foundation, a great Las Vegas organization devoted to fostering pets whose humans must leave them to go into assisted living or hospice. TLB cares for these much-loved pets, brings them to visit their owners, trains those that are able to be therapy dogs for others, and finds them new forever homes when the time comes. Pretty wonderful, don't you agree?!
Be sure to follow our staff on Twitter – and make sure that @BlogPawsChange is following you back, so you can DM your answers to the quiz questions to win prizes!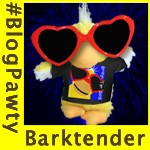 #BlogPawty Staff: (You'll recognize them by their avatar frames)
Host: @BlogPaws (Kristin, aka @BlogPawsKristin & @PetFriendlyHlwd)
Quizzer: @BlogPawsChange (Wanda, aka @MaggieTKat)
Barktenders: Michele @Pepismartdog and @Georgetheduck
DJs: Candace @Autumnthedoxie and Pattie @CathyKeisha
Pawleece: Jennifer @AbbeyRescueDox and Bunny @CarmaPoodale
Save the date: Saturday, May 10, from 7-9 PDT  to pawty, socialize, win prizes, and dance the night away with all of us at the Westin Lake Las Vegas! (There are still registrations available here!)
RSVP below before the #BlogPawty begins to be eligible for a great door prize!