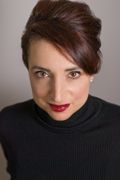 by: Carol Bryant
Looking back at 2013, this has certainly been the year of the image. In fact, Oxford English Dictionary named the word "selfie" as its word of the year. Have you engaged more with images this year?
No doubt, as a blogger and/or microblogger in the pet (or other) space, imagery is a frequent part of expressing yourself. Selfies aside, more than a few million have taken an interest in Pinterest. BlogPaws prides itself on sharing the very latest and greatest in social media education, and 2013 has been no exception.  If you came to our 2013 Conference in Virginia, one of the sessions featured Pinterest. As a holiday bonus, we're sharing a variety of entire sessions, including this one….
Dorothéa Bozicolona-Volpe is a Social Media Strategist and is shared Pinterest strategy with the BlogPaws 2013 Conference attendees. Using Pinterest for fun versus having an effective social media strategy in place to use Pinterest for business are two completely different things.
Dorothéa says, "My love affair with technology bled into social media years ago. Now I assist people and brands in building their audiences across the digital landscape by integrating social media & digital strategies, strategic partnerships and marketing technologies into their business.
This session conveyed the main points and concerns of utilizing PINTEREST for business. As bloggers, we are businesses, after all in many cases. The presentation also communicated best practices and successful strategies from real life case studies.
Jump down after the video for your opportunity to register for the BlogPaws 2014 Conference:
We expect another sell-out conference in 2014, and Team BlogPaws has pulled out all the stops this year. Collectively, Chloe, Yvonne, Tom, Carol, Felissa, Robbi, Kristin and a host of other pet paw-rents and professionals are putting together an agenda you will talk about all year long.
Who should attend BlogPaws 2014? BlogPaws conferences deliver educational sessions on topics ranging from finding content for your blog, to search engine optimization (SEO), to turning your blog into a business or a book, to holding fundraising events to using specialized contest apps on Facebook, and much more. While a majority of the attendees publish about — or in some cases AS their pets — the topics apply broadly to anyone who wants to learn more about effective use of social media and blogging.
Register for BlogPaws 2014: And let us know if this is a surprise holiday present: We'll be sure to keep the secret with you!
Join us at BlogPaws 2014 – Westin Las Vegas Resort & Spa in Henderson, Nevada: May 8-10, 2014
On beautiful Lake Las Vegas (30 minutes from the Strip)!!!