Post by Robbi Hess
There are roughly 170 (174 to be exact) days until the BlogPaws 2016 Conference in Arizona. Are you registered? Have you booked your travel? Will you be driving or flying? Do you have your room reservation? Will you be rooming with someone? Will you be taking your pet(s) with you? There are a lot of questions to be answered and a lot of planning to be done, am I right?
One of the biggest concerns our pet blogging community voices is, "I want to come, but how can I afford it?" While I am no financial planner or saver extraordinaire I can tell you that my husband and I are saving for a new house and we have found some rather painless ways to save for the closing costs (which are, frankly, astronomical) and it has really been adding up. Here are my tips for helping to save for the BlogPaws 2016 Conference.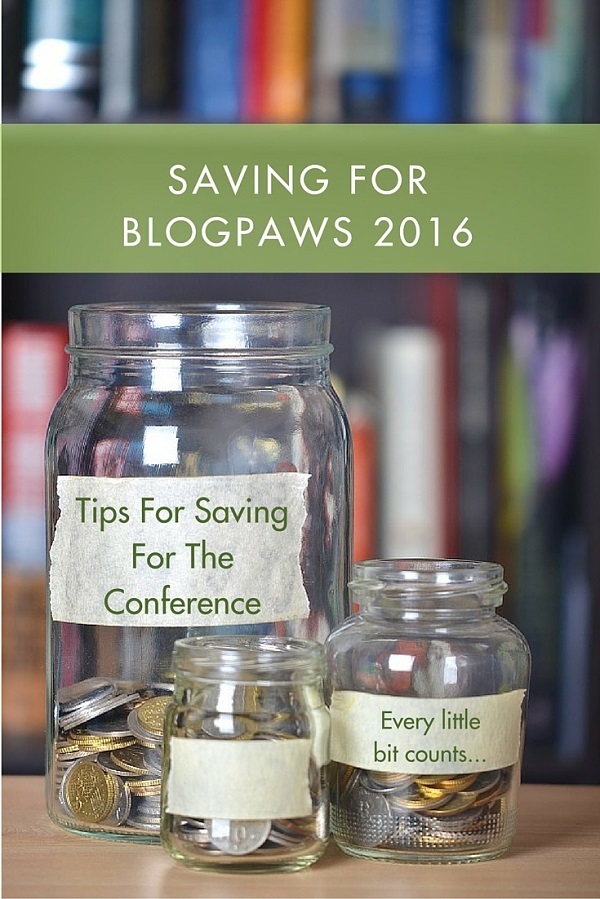 Know how much you need.
Rather than just saying, "I need to save for the conference," you need to say I have to have "X number of dollars in order to go to the conference." Get online and grab the price for the conference registration fee, then go to your airline or travel carrier of choice and see how much a plane ticket is. If you're driving, calculate how many miles your vehicle gets to a gallon of gas and then determine how much it will cost you to drive there. Don't forget to look at the hotel room costs (hint, conference attendees get a conference rate so grab yours before the hotel sells out of those blocks of rooms). When figuring hotel costs make sure you add in a bit more than the room cost itself because there will be various fees attached as with any hotel stay. Meals are included so other than bringing some snacks along to munch on between sessions or between meals, you should be covered there.
Now that you have your figure, divide it by the 170 days before the conference. For example, if I had to save $1,000 in total for the conference that means I would have to stash away about $6 a day. That certainly seems doable, right?
Factor in sightseeing costs.
If you've never been to the Phoenix area you may want to take in some of the sights. You may want to travel to the Grand Canyon while you're in the area. There are any number of things you may want to see and if that's the case, build yourself in a cushion to do just that.
Get saving! Here's how:
"Round up" when you make a purchase with your debit card. If you buy something and use your debit card and it costs you $9.55, "round up" the $.45 and make it an even $10.00. Take the $.45 and put it into a jar that you have set aside to save for your BlogPaws 2016 conference attendance. If you don't want to deal with the change, then keep a notebook that you label specifically for your savings attempts for the conference and keep track of it there.
Use coupons. I am not coupon-crazed, but if there is a coupon for something that I use regularly I am definitely using a coupon for it. When I get home and look at the receipt and see that I saved $5.00 because of my couponing, I put that $5.00 in the jar.
Cut back on coffees and lunches and dinners out. I admit that once Dunkin' Donuts moved into my neighborhood I wanted to be there every day and some weeks I was! Gulp! That adds up, especially when I have a perfectly good Keurig and the ability to make my own coffee pods (I don't love using the pre=-packed plastic ones for health reasons). Because I work from home, I eat lunch at home so there aren't many savings opportunities for me there. But, when it comes to dinners out… well I am a bad and lazy cook, so if it's up to me I will order take out or say, "let's go out to eat tonight." Note: That usually only happens on the occasions when it's my turn to cook dinner! When we knew we were saving for a house I knew I had to suck it up and start cooking on my nights, sigh. Anywho, on the nights I would usually order a pizza and wings for us, if I cooked dinner, I would toss that $30.00 into the jar and viola — more money saved. Sure, it meant I had to cook, but my shining beacon was a new house in the community of my dreams so it was a sacrifice I was willing to make.
Save the change. If you pay cash for items, take the change you get back and toss that into the savings jar. It will add up more quickly than you'll think it will.
Speaking of using cash… Get into the habit of giving yourself a cash allowance for the week or month. Don't use your debit or credit card on purchases of less than $20.00 (or whatever threshold you're comfortable with.) If you decide you won't use your credit card on a purchase lower than $20.00 you may think twice about whether you really need that new scarf or that extra tube of mascara. Having to dig out actual cash may make you rethink spontaneous spending.
Save rebates. Do you buy items that have rebates with them? My most recent was a new flea and tick collar for Henrietta that came with a $15.00 mail in rebate. The check just came and it went right into my savings jar. When you make a purchase look to see if there are rebates available. I do know that during the holidays, much of the wine I purchased for guests had mail in rebates — they will go into the savings jar when they make it to my mailbox.
Check store brands. There are some items I will not use as a store brand, but there are others that are just as good as the name brand. For example, do you need brand name sandwich bags or aluminum foil? Probably not. Tally up the savings between name brand and store brand and toss that savings into your jar (or write it in your savings journal). Look around for items you purchase regularly and see if the store brand might do the trick.
Does your area of the country have a nickel-back recycling program for bottles and cans? If so, when you take yours back, toss that money into your savings jar.
Did you get Christmas or birthday money? Put that toward your conference attendance. Remember, attending a BlogPaws Conference is an investment you're making in yourself and your pet blogging business. You need to take it seriously.
Go to the library. Before you click that "buy with one click button" that Amazon makes so convenient, see if you can get the book at the library. Your local library may even have the book you're seeking as an ebook that you can immediately download. Take the money you would have spent on the book and put it in your jar.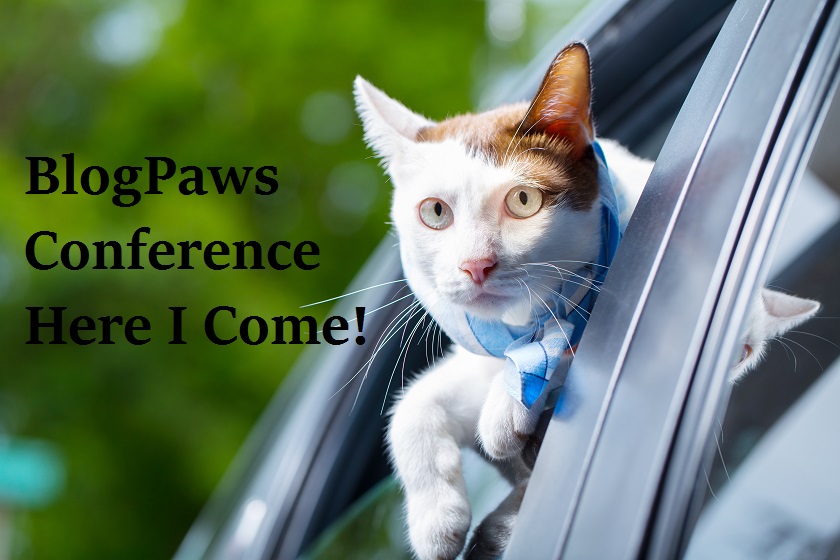 Let your family know how serious you are about attending the BlogPaws Conference and ask them to help keep you accountable to saving for the trip. Many of our past attendees say their pet blogging business has truly taken off because of the connections they made and from the information they learned.
What is your best savings tip for conference attendance? Please share here and help your fellow BlogPaws Community members realize their dream of conference attendance!
(Photo shutterstock: Jars with coins and cat in a car)