Post by Blog Manager Robbi Hess
I love productivity tips and organizational posts. Why? Because I have a ton of work that I have to complete on a weekly basis and if I didn't have a system in place I would be, honestly, frozen in place when faced with my daunting to-do list. I learned after my breast cancer diagnosis that I had to get a grip on my work schedule and by default my life schedule (as in, I wanted to have a life after my diagnosis and treatment). Prior to breast cancer, I worked sometimes seven days a week and many days of the week I worked for 16 hours a day. I look at that now and wonder how I managed to still be here today.
I wish it hadn't taken a huge health issue to force me to look at my lifestyle and my work life, but it did and it taught me how to prioritize and systematize tasks so that I can do more in fewer hours. Yes, I actually close my office door at 5 pm on a regular basis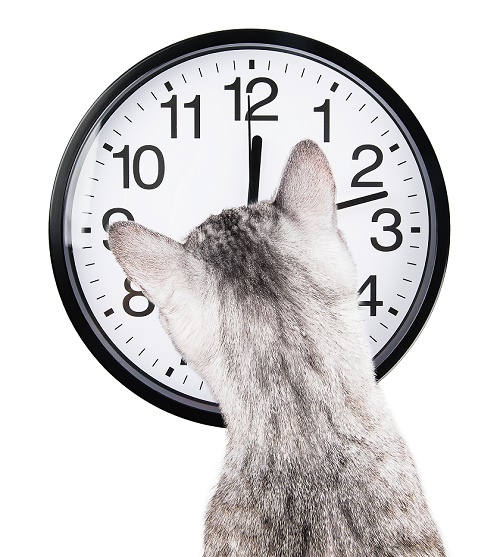 and that isn't always the easiest thing to do when you work from home.
Here, for you, are some pet blogger productivity tips that I hope will make you more productive and feel less stressed:
What steps can you take to be more productive or to introduce a habit into your pet blogging routines? I'd love to hear!
(Photo Shutterstock: Dog dressed as vampire)
(Photo Shutterstock: Cat staring at clock)