Post by Robbi Hess, Blog Manager
In my continuing series on getting your blog and your business plan in shape to poise you for a successful 2016 we continue this week with tips on task and goal management for the new year. To see what you missed and to download the free 2015 Blog & Business Evaluation sheet click here.
Accomplishing more in a day and achieving your short- and long-term goals is a matter of planning and tracking. Anyone can say they're going to:
Write a book
Blog seven days a week
Grow their social media following by X number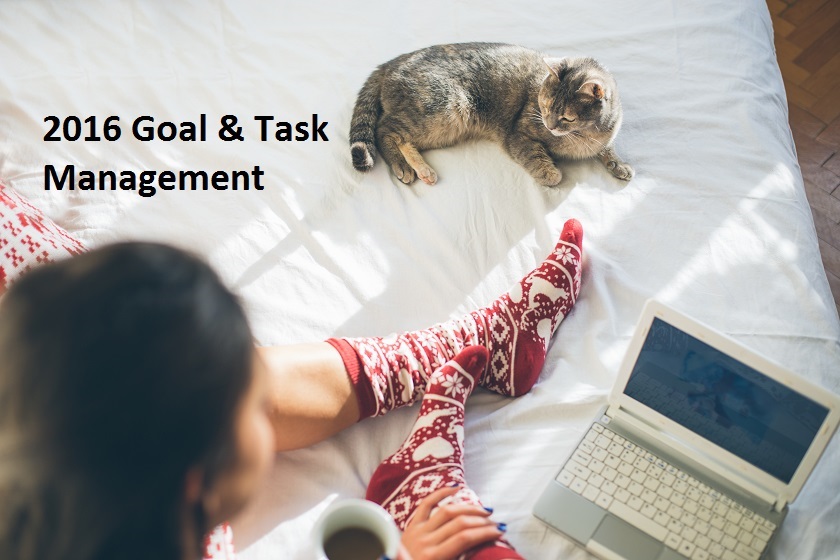 But without a plan in place and a way to track your goals you could be wandering aimlessly and find yourself at the end of 2016 wondering, "Where did the year go and what did I accomplish?" In order to turn your dreams into reality you need to write them down. If you simply say, "I want to write a book," but have no way to track that goal or if you haven't set a deadline is a mere wish in the wind. A goal, written down, is a visible reminder of what you want to accomplish and it's even better if you can write down why you want to accomplish it (that gives it even more power). For example, "I want to write a book so I can be considered an expert in my pet blogging niche and to garner speaking engagements." That is a visible, measurable goal and one that is more likely to be accomplished.
Download the 2016 Goal & Task Management document. Fill it out. Keep it visible all year long. Hint, print more than one so you can track both long- and short-term goals and even your daily to-dos.
It may be cliche, but S.M.A.R.T. goals truly are worthwhile and the idea behind it is sound. In case you don't know what it is, S.M.A.R.T. goals are those that are:
SPECIFIC
MEASURABLE
ACHIEVABLE
RELEVANT
TIME-BASED
 Every goal that you write down should fit that metric. Let's continue with the "writing a book" goal.
Specific – Writing a book
Measurable – You can measure/track your progress toward the end of that goal (and it has a specific end point)
Achievable – You need to know yourself and your own abilities to know if you have it in you (skills and the wherewithal) to complete it
Relevant – Is "writing a book" relevant to your overall business plan and 2016 success?
Time-based – You need to set a deadline. "Write a book and have it complete before the BlogPaws 2016 Conference."
Take time to do this with all of your goals. Take them from the vague to the specific. Write them down. Actually take time to write down ALL of the goals you want to accomplish in 2016. Once you've done that you can prioritize them and even break them down into which quarter of the year you want to complete them. Are there others that are more time sensitive? If you want to "write a book and have it complete before BlogPaws 2016 Conference," then you'd better put that front and center in the first and/or second quarter of the year. Remember you need to schedule time to not only write it, but have it edited, printed or formatted for e-publishing so factor that into your timeline.
At the bottom of the 2016 Goal & Task Management Tracker, use the Daily To-Do list to help you accomplish more during your work day. Write down what you need to accomplish:
Write two blog posts
Interact on social media for X number of minutes/hours
Take photos for blog posts
Call clients
Comment on X number of blogs
Attend networking event
Specific client tasks
There is something ultimately satisfying about writing down a goal in the morning and then crossing it off at the end of the day. Date the To-Do list and keep them so you can go back and look at those tasks you've completed and note, with satisfaction, how much you are truly accomplishing on reaching your pet blogging business goals. If you find you're not crossing too many to-dos off the list, you may want to step back and take a day or so to track your time. Just as those on a diet write down every piece of food they eat, you may want to write down everything you do in the course of a day to find out if you have some time-suckers that you're not even aware of, like "getting lost on Pinterest looking for recipes" or "cleaning the house" or "going out to lunch with friends" or "spending too much time on Facebook." It is easy for a day to slip away if you're not careful.
In the third and final part of the Blog & Business Plan Series I will cover setting up your editorial calendar and more! Stay tuned.