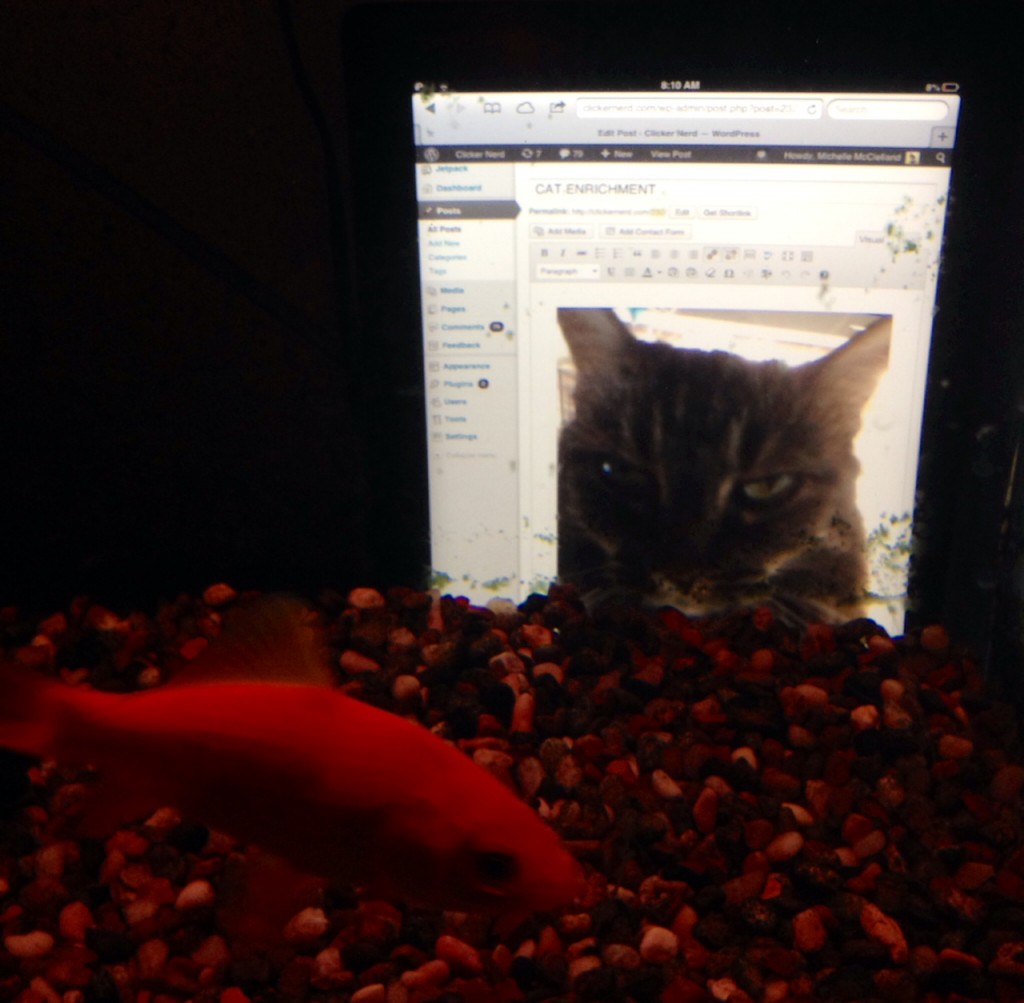 by: Carol Bryant
Ever find yourself struggling with the day-to-day aspects of blogging/microblogging? It seems there is always something to do and a barrage of social media task to attend. There are ways to conquer social media and these ways need not be laborious or cumbersome.
Would you like to know how to get the best results from your pet blogging and/or microblogging efforts?
BlogPaws asked 12 social media experts in their field to share a tip in their respective field. Even better, these 12 experts are amongst the best speakers in the industry AND they will be speaking at the BlogPaws Conference in May. So whet your palate with these "act now" tips and then meet these rock stars in person in Nevada from May 8 through May 10.

#1 Pinterest
Source your pins to drive traffic to your website. If you are sharing information, products or anything on Pinterest – this is key! Watch this video to find out how to source a pin correctly: http://bit.ly/1byXanB
From: Danielle Lambert, Snout Consulting
BlogPaws Session: Pawsitively Pinteresting: Using Pinterest to Grow Your Blog

#2 Videos
When it comes to creating effective video for shelter animals, STORY is everything. To learn more about how to tell a compelling story for each adoptable animal (in a way that won't pull your hair out), join me at BlogPaws in Las Vegas!
From: Lisa Richman
BlogPaws Session:  Killer Videos that Save Lives: Visual Storytelling 101 for Shelters & Rescues

#3 Blog Giveaways
Be careful when running giveaways on your blog. Did you know that any giveaway must have an easy way to enter that does not benefit you or the brand that you might be working with? This means that, to comply with sweepstakes laws, you can't make liking a page on Facebook page or signing up for an email list mandatory. Fix this by having an easy entry by just providing a name and email (that won't go on a list). Then make any other forms of entry optional. Rafflecopter is one tool that makes it very easy for you to do this.
From: Carleen Coulter
BlogPaws Session:  Top Legal Issues Faced by Bloggers, What You Need to Know in a Nutshell
#4 Be the Change
Too many people are afraid to share their dream or ask for help. The more you put your intentions out there, the more chance you have to find resources, connections and knowledge you need to make a difference.
From: Caroline Golon
BlogPaws Session: Be the Change: We Are the World: Making a Difference for Pets – Together.
#5 Repurposing Content
The Writing and Video market is so huge, that it's possible to take a topic and re-write it, or re-film it and re-sell  it multiple times and earn serious money.
From: Sandy Robins
BlogPaws Session:  Monetizing Topics for Profit

#6 Build Authority
Building a blog with authority means being able to back up your information with accurate sources and references. You'll have to join me to find out where to find those!
From: Dr. Lorie Huston
BlogPaws Session: Table Topic: Creating a Blog With Authority

#7 Write the Book You Want to Read
This tip applies to both fiction and nonfiction. If you read interviews with nonfiction book authors, often the reason they give for writing a book is that it is "the book I wished I'd had when I got started, but I couldn't find it." When it comes to fiction, if you hate young adult vampire books, don't write one. If you love romance novels, that's the genre for you. I write nonfiction books that help rescue groups with info I wish I'd had when I was doing that type of work. I also write romantic comedy novels that feature quirky dogs and cats because I like fun books with animal stories.
From: Susan Daffron
BlogPaws Session: Co-presenting with Penny Sansevieri and James Byrd for How to Get Published (Writing and Marketing Fiction versus Nonfiction)
#8 Facebook
Engage with your fans and customers wherever they are! If they are on Facebook, consider creating a Page or Group. A Facebook Page is primarily for promoting your brand or product. Facebook Groups are more for growing community among people with a common interest.
From: Jim Nelson
BlogPaws Session: Facebook Pages vs. Groups/Maximizing Reach and Engagement with Your Facebook Fans

#9 Video Marketing
When doing video marketing, rather than think marketing, with video it's about giving value in a bit size bit. Example – video a short How to Tip – or video an engaging question, or video the problem you know exists and the fun or funny solution. Video is a visual medium so say less and show more and do it in about a minute. For more ideas on engaging your audience with video come to Blog Paws for the How to Create Engaging Content session!
From: Shawna Schuh
BlogPaws Session: Creating Engaging Content (with Rose Hamilton)

#10 Building a Blog Business
Where do you begin when creating a business? Most advice says start by writing a business plan. A plan is important, but that's not the first thing to do. It's not even the 20th thing to do. You start by thinking through your products and services.
From: Mary Anne Shew
BlogPaws Session: Build a Business, Not Just a Blog

#11 SEO
Let's start with getting over a common misconception: blog posts really, really don't need to be somewhere between 400 and 500 words. This is something I'm going to cover in more detail during my beginner session but forcing yourself to a set number of words no matter what the topic is doesn't help anyone.
For some posts a set of 20 images and 10 word descriptions for each will be absolutely fine, while others might need 2000 words+ to give enough detail.
Another tip, and again something I'll be covering in the pro session, is about outreach. So many people create really cool content and then just wait for others to find it. If you have something that's truly outstanding tell the world.
That doesn't just mean a couple of Tweets, and certainly don't go spamming everyone you can find – it's about finding the right influencers who are likely to share what you've done and asking them to share your stuff, cover it in their weekly roundup, etc.
From: Matt Beswick
BlogPaws Session: SEO Basics and SEO Advanced Workshop (Session 1 (Beginner / Intermediate): Getting Ahead in Search: Zero to Hero and Session 2 (Pro): SEO For Superstars)
#12 Writing Content
"If you're going to write content, aspire to write content and tell stories that change the world."
From: Brian Easter
BlogPaws Session: How to Amplify Your Bark Across the Digital Ecosystem
BlogPaws is proud of the amazing speakers who have joined our conferences! We sold out last year and will sell out again, so don't delay in joining us for the hottest social media conference in the pet industry. The BlogPaws 2014 Conference is May 8 through May 10, 2014, and tickets are on sale now. Visit the BlogPaws Registration page to get started. See you in Vegas!