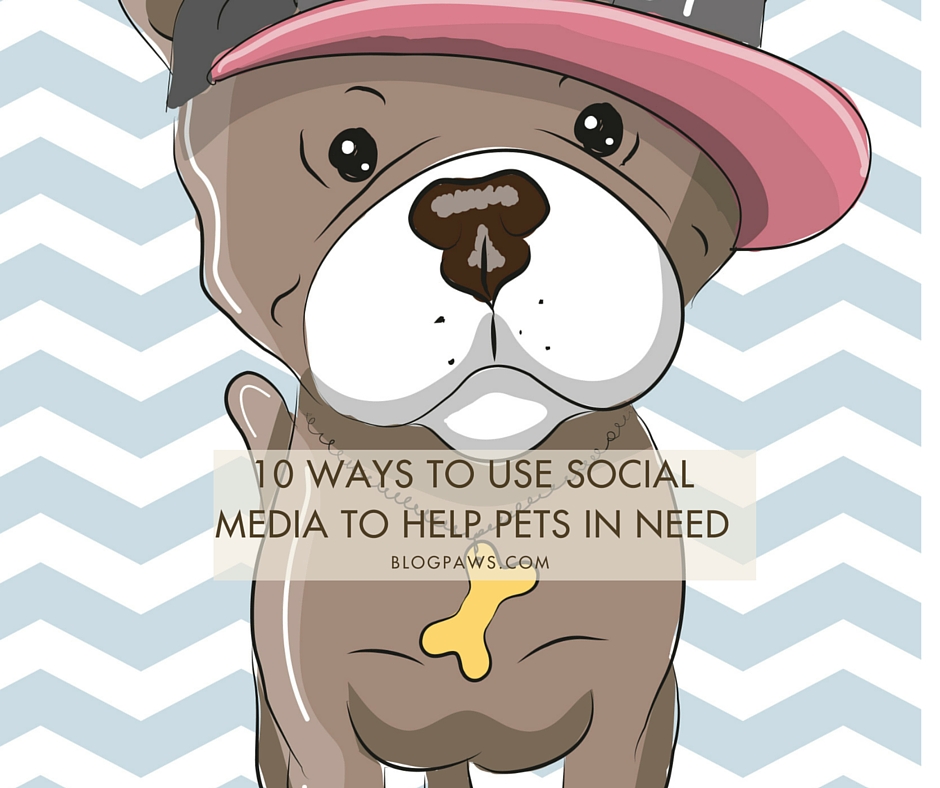 by: Carol Bryant
Social media can be a very powerful tool, especially when it comes to helping pets in need. We've all witnessed the endless sea of pets in need on our Facebook news feeds. Not everyone likes to see "11th hour animals" on their Facebook feeds: For some, it is too upsetting to see pets that need a home, and without an urgent adoptive situation, sadly, these pets will be euthanized. A large number of folks I connect with in the pet world tell me that they "hide" those photos from their feed because they get too upset (can't sleep, feel helpless). For those who lives who are saved by these efforts, this is over-the-moon fantastic.
However…..
There are  other ways to use social media to help pets in need. Here's a list of 10 ways to get the word out, employ the power of social media, and help pets who need it the most:
(10) Don't Do Drama
Let's start with this one right off the bat.  Rescues who are involved with infighting can work against you and actually hurt pets in need. Does this sound familiar?
"Do you know she sits on her butt all day and doesn't make as many phone calls to shelters as I do?
"I cannot let people think Janice helped that dog when I clearly did more than her."
Why is there so much infighting and "I can do it alone" mantras in some pet rescue circles? Ultimately, people will not want to donate, and who suffers then? The animals in need take the brunt of it and may pay with their lives.The general public is watching and many of us want to help, so make it easy for us. Crazy turns me off no matter who did what to whom.
(9) Tell a Heartwarming Story
Instead of simply posting a dog in need to a blog post or on social media, consider telling a story that tugs at the heartstrings. I always tell my readers, "no graphic photos" in this post at the start to any of my "pets in need" blog posts. I am thanked time and again by this because some people cannot stomach seeing a pet who has suffered. They want to help, but perhaps graphic images are not the way to their hearts.
Case in point: Meet Baby Joey. Earlier this year, a puppy who is called Baby Joey was found with nearly both of his rear paws chopped off: By a hateful monster. I found out about Baby Joey from my friends at NYC Second Chance Rescue. They are fostering Baby Joey and incurring all of his medical costs, and his journey to some sense of a "normal life" has begun.  His foster mom, Regina Mendoza, is herself an unspoken hero, fostering over 100 dogs in her just over a year's time.
Like any toddler learning to walk, putting one foot in front of the other is key. This is not the case with Baby Joey, as each step is uncomfortable and he does not enjoy walking in general. He often looks for a soft place to lie down. Can you blame him? Joey is forming and developing at this time in a way that is posturally incorrect: He will not form and align properly, so a dedicated plan is needed. With a mighty plan for this little spitfire comes a hefty price tag. I told this story on my Fidose of Reality blog, and the folks at Merrick Pet Foods read it.
After reading about this miracle puppy who needs prosthetics and rehab on my Fidose of Reality blog, the folks at Merrick® reached out to help get Baby Joey work towards his best day ever.
Baby Joey is going to require glucosamine and chondroitin in his food in order to help his growing joints. Merrick has generously provided Joey with their Puppy Plate canned food and Classic Puppy Recipe (which is made with chicken and brown rice) and a plan to help him work towards success. In a dog like Baby Joey, glucosamine and chondroitin become very beneficial for his back legs and ultimately for ease of mobility and comfort. Since puppy foods are a bit higher in fat content than a normal adult dog food (after all puppies are on the go and high energy), Joey's foster mom will monitor Joey's weight and activity levels in accordance with is veterinarian and rehab plan. As Merrick says on their dog foods, "Every dog is little different, so optimal feeding amounts may vary with age, size and activity level."
Notice the images and the headline. When I share images, I make sure they, too, tell a story and that the title, ALT tag, and description are all in line with the photo and story.
(8) Cyber Foster a Pet and Encourage Followers to Pitch In
Not all of us can afford to give gobs of money to a favorite rescue. I sponsor a dog every month for $10 bucks.  Cats and rabbits and all species in need could use a loving cyber foster parent. If you yourself have sponsored a pet or know someone who has, that $10 bucks makes a big difference. "A walk through the kennels, and one realizes these dogs are barking for their lives," says Terry Humerickhouse, a fellow Cocker friend,  summarizing why he has fostered over 150 dogs in his lifetime. Just pick a dog, blog about them, or share on social media and ask all of your followers to help you cyber foster that pet for a month. Imagine the money that can be raised. If you have 1,000 followers and even 10 partake, that's $100 bucks for a pet in need.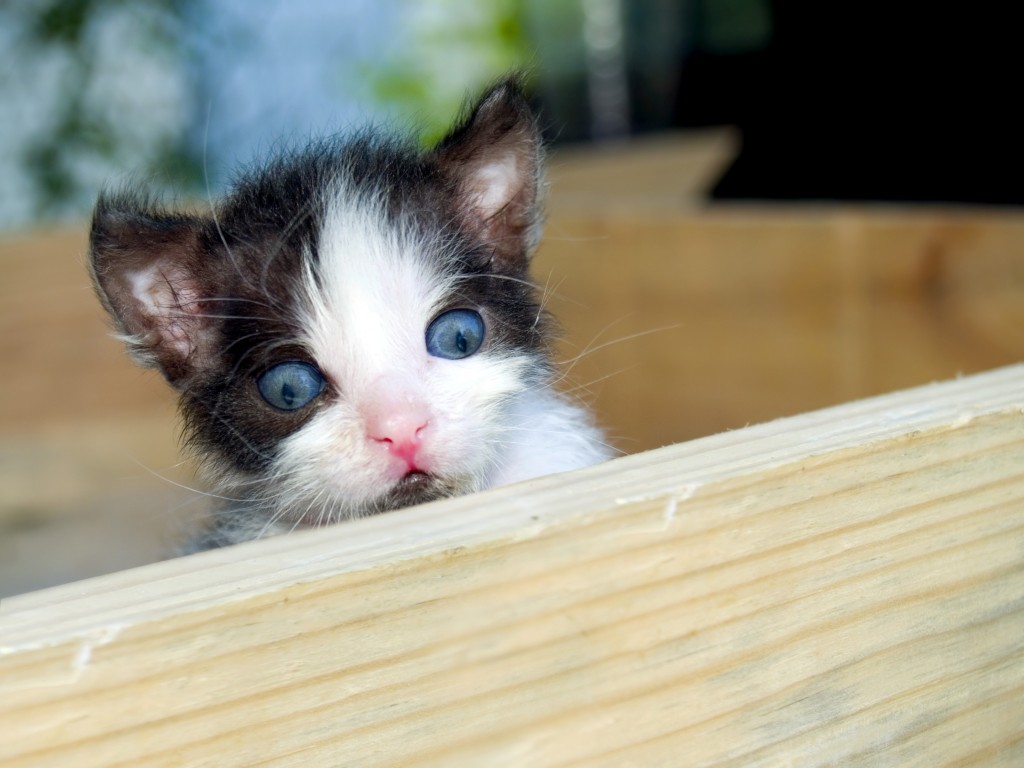 (7) Use Video to Your Advantage 
Pick one animal in need and market the heck out of that particular animal's plight. Get a camera, film in HD quality, and become proficient in video editing.  It's not an easy way to do it, but it works. You need to build a social media following.  A video that tells a story and tugs at the heartstrings without being overly graphic is key. At the BlogPaws Conference in June of 2016, this topic gets a lot of discussion. Ready to go help a rabbit in need a kitten get her forever home? Bring the video along.
(6) Pets on the Catwalk
Host a fun "Pawject Runway" style fashion show for pets, where pet parents actually have a time limit to make an outfit to strut for the judges. I have attended one of these and they are so much fun. My dog even won the Mr. Congeniality. Use social media to promote the event. Perhaps this is something you can do in your area or even host a cyber catwalk. Facebook has the unique feature of allowing "events" to be created. By engaging sponsors, having prizes, and properly promoting the event, a cyber fashion show can be a lot of fun.
If you prefer not to do this in the event the animals are not that into it (i.e., recently rescued cats who might be scared), therein lies the beauty of an catwalk. Create a Facebook event and allow people to use a photo editing software to compete against each other in an online catwalk contest. Get some local sponsors to donate prizes. A simple phone call can go a long way.
Here's the 2014 "Pawject Runway" at the BlogPaws Conference (and note there is a kitty in it):
(5) Engage with for Dollar-for-Dollar Sponsorships
Some rescues have a matching funds drive, so be aware of them and donate then. For example, once a year, a Cocker rescue group I work with has a matching funds drive. For every donation made during the matching funds period of time, (usually up to a certain amount), a private donor steps in to match the funds. So if $10,000 gets raised in that time frame, the benefactor bumps it up to $20,000. You can Google "dollar for dollar" or "matching fund drive" sponsorships.
(4) Shop and Tell Your Followers to Shop, Too
So many websites have a "give back" option. finding out if your favorite rescue (don't have one yet?) is involved in a "give back,"  everyone wins. You shop, and the store gives a percentage of sales back to the rescue group. One caveat: You need to click through the actual website link for the rescue group to get the credit.
(3) Adoptable Pets on Instagram and/or Pinterest
This one is perhaps, one of the easiest ways to get the faces of pets noticed. There is a trend I am seeing emerge in social media of photos of adoptable pets taken by photographers who highlight the dog's beauty. Here's an example:
Lucy is a very sweet 4 year old pittie-boxer mix that survived death row! She's the total package—she's the perfect couch potato and will join you for a Sunday filled with watching movies.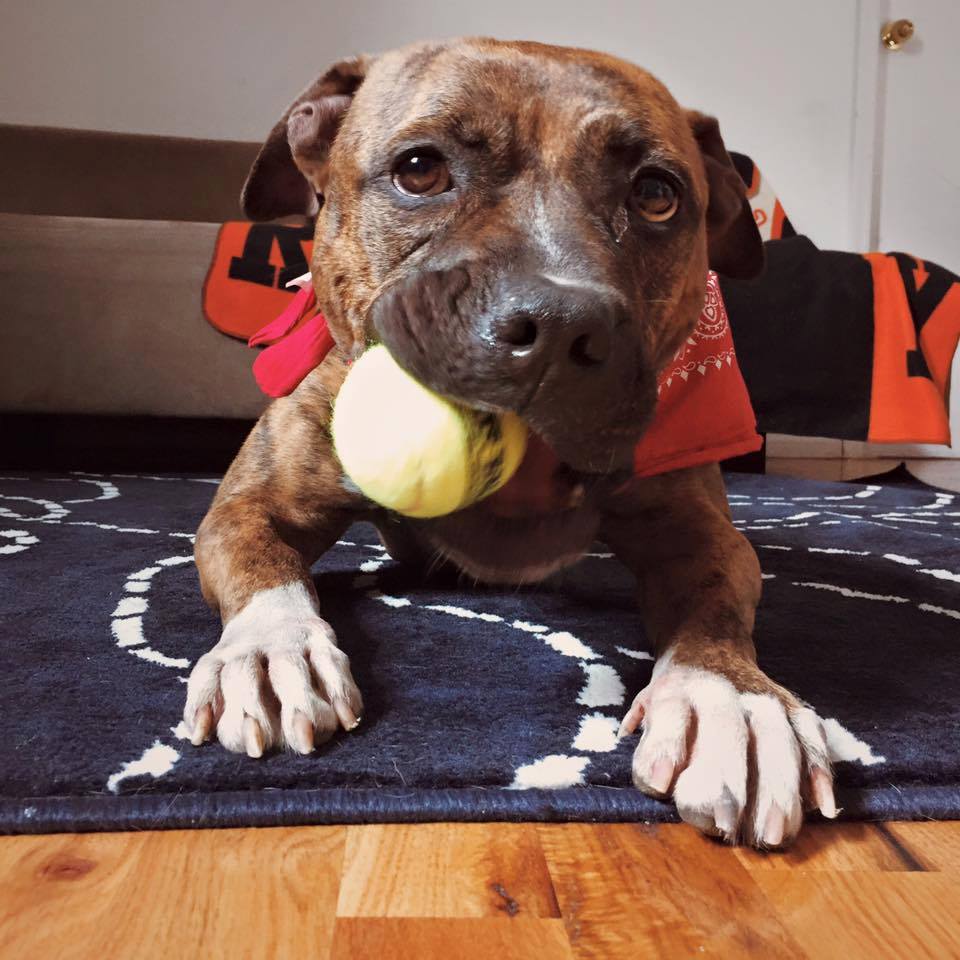 Start a Pin board and/or share a pet a week on Instagram who needs a home. Add the appropriate hashtags, city, state, etc. Be sure to tag the rescue or location of the pet, too, so folks have access to more information.
Bonus tip: Take photos to showcase adoptable pets if you have a good camera and some photo skills. Call your local rescues or shelters and ask if they can use some volunteer photography work. A stellar photo is a pet's opportunity to make a good first impression on adoption web sites or Facebook.
(2) Use Social Media to Hit the Open Highway 
Transport pets from high kill shelters to rescue groups. You can find transport groups on Facebook or by Googling. My good friends, June and Mike Myers, do this for Cocker rescue in Oklahoma. She helps dogs get from point A to point B and on their way to a foster home or a forever home. Being a volunteer driver means you need to be willing to do things without a pat on the back. The pets who are saved and those wagging tails are rewards, plus knowing you are helping a pet in need. Here's June smooching my dog, Dexter:
(1) Online Auction 
This is one of the more common and generally successful ways I have seen pet rescues raise funds. There are good ways to do a online auction and not so good ways.
Before the auction begins you can create a "Private" Facebook album and upload all of the pictures to it. It is also important to write good descriptions for each picture. In the header of your auction album make sure you include details including what the fundraiser is for, when the auction ends, shipping details/costs, and any other important information. At the opening of the auction change your album from "Private" to "Public. This link is a few years old, but it provides the basic foundation for hosting a Facebook online auction.
What Ways Have You Used Social Media to Help Pets In Need? What has or hasn't worked for you?