Can you even believe that the BlogPaws 2014 Conference is over already? The planning and prep started as soon as the 2013 Conference ended and in the blink of an eye, the Conference is over (but the learning continues year round!) and we are off and running and getting ready for BlogPaws 2015!
As our BlogPaws tagline and mission statement read, we want to "amplify members' voices; and are shaping soc

ial media excellence, influence and educate one amazing pet parent at a time. What this means to you, our pet blogging community members is that we never stop bringing you learning, sharing, networking opportunities, potential money-making opportunities and ways to better share on social media the content you are writing on your own personal blogs. 
One way we are doing this is by starting a blog hop on which you can share the content you've written about your BlogPaws Conference experience. This works like a linky in that you just enter your blog post HTML link where it says to do so below.
Even if you didn't attend the Conference, we still want to hear from you. Tell us why you are a pet blogger. Write a blog post about whether you are coming to BlogPaws 2015 and what steps you are taking to make it happen. During our recent Twitter chat the #blogpawsorbust hashtag  was used and people were sharing ways to save money throughout the year so they could be with us at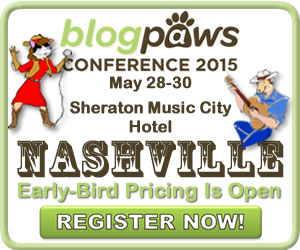 the next pet blogging conference. As long as your blog post is BlogPaws related, we want to hear from you! 
Don't forget: Registration is open for BlogPaws 2015 in Nashville. Click the badge and you'll be taken to the registration page.
Put those thinking caps on and get your blog posts written. We can't wait to "hear" what you have to say!