Post by Blog Manager Robbi Hess
If you're a pet blogging business owner, what are you doing on your website to:
Raise awareness of who you are
Let potential business partners know what you do
Share your expertise
Your pet blog service page is an area on your site to which you should devote time. Consider that your website is your 24/7/365 calling card to the world and you can see how important it is to not leave anything to chance when it comes to a potential business client saying, "Eureka! This is a person I need to work with!" In my Blogging 101: How To Write A Great About Me" page I shared how to clean up and maximize this valuable website property.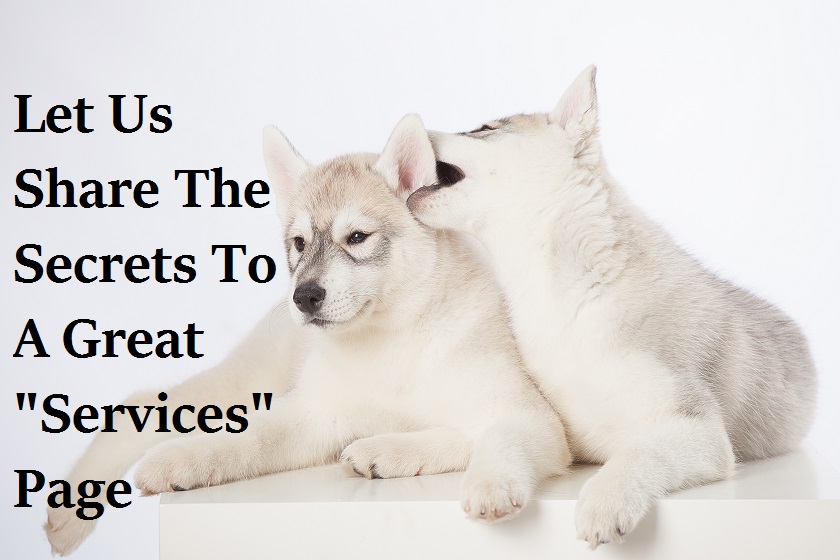 Just as your About page is important, so too is your Services page. Keep in mind that your Services page is a part of your website because it communicates your services, your expertise, how people can work with you and how they can initially contact you.
What should you put on your Service page? Here are some items to consider:
Your portfolio or links to it.
You can link to clients with whom you work. You can link to work you've completed. Add a graphic of a website or newsletter you've designed. Link to blog posts you've written.
My ideal client is…
If you don't spell out with whom you want to work, you will take on any, and every client who comes your way. While you may want to be a generalist, it's been found that those who specialize make more money. Why? Because if you say, "I work exclusively with pet sitters or accountants" for example, you will be thought of more highly by the professionals in those niches. They will value your work because you have decided to devote your efforts to their niche.
Consider putting a questionnaire on your site as a way to not only help you determine whether potential client is a good fit, but to let them self-determine whether they are a good fit.
List your areas of specialty. Don't beat around the bush. If you want to work with XYZ only then state that. If you want to work with clients only in your area of the country in XYZ specialty, state that as well.
How do you know who your ideal client is? You should have determined this when you put your blogging business plan together. You did do that, right?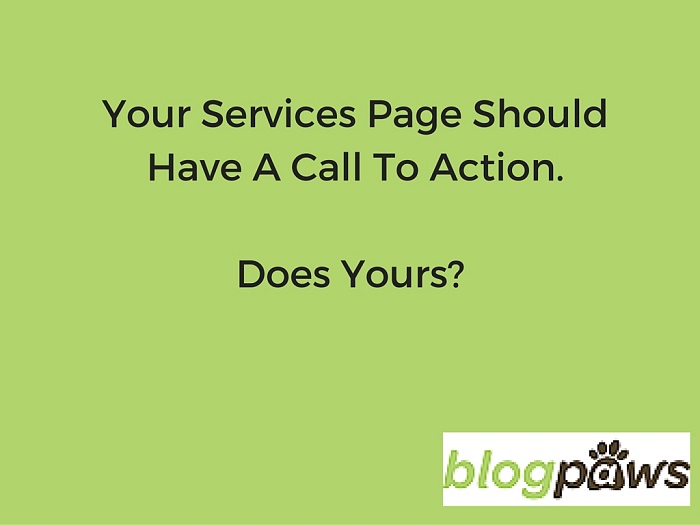 How much does it cost?
Some bloggers list what they charge. Other bloggers say, "Ask for my price list." Still others want to wait until they talk with a potential client to share pricing methods. Listing pricing is a very personal decision and one that you need to be comfortable with. I have never heard anyone say, "I worked with this person because she had her prices on her site!" nor have I ever heard, "I'd never work with someone who didn't list his prices." You decide.
What do I want them to do now?
Your Services page – and other pages on your site – should have a Call to Action (CTA). What is the CTA on your services page? "Call me for a complementary phone consultation?" "Sign up for my nifty newsletter and be part of the inner circle." "Fill out this contact page and I will get in touch with you."
Regardless of what the CTA is, there needs to be one. If a visitor to your site isn't prompted to do something, he or she may just poke around a bit and then leave. This is especially true if you don't clearly state, "You can work with me and here's how!"
What are some quick action steps you can take today to clean up your Services page?
Here are my top three:
Craft a clear CTA
Your content should have: Your services, who your ideal client is and the call to action if they want to know more
Sing your own praises by linking to current client projects and/or having your portfolio online
Don't make a potential client have to wonder how to get in touch with you or how to work with you. Make it easy.
(Photo Shutterstock: Two dogs)