In 28 days, BlogPaws will be kicking off!
If you've made the investment in yourself and your business to attend the BlogPaws conference, how can you get a return on your investment (ROI)? Conference ROI is very important, especially because the costs of travel–airfare, gasoline if you're driving, hotel stay, meal costs and the cost of being out of the office–can be substantial.
In this three-part series we will explore:
Planning BEFORE you get to the conference
Maximizing your time DURING the conference
Following up and following through AFTER the conference is over
Make The Most Of Conference Attendance
Put in the time BEFORE you set foot on the conference site.
How can you do that?
Be active in the BlogPaws Conference Facebook page.
Interact in the BlogPaws Social Learning Community. This is especially helpful if you're a conference newbie. But, even if you're not a BlogPaws conference "virgin," the newbies group is great for meeting newbies, sharing your experiences AND reintroducing yourself to people you may not have spoken with since the last conference. NOTE: Ahem, we will discuss this in the follow-up and follow-through post.
Look at the schedule 
Jump online and look at the schedule for the conference you're attending. Spend time reading the bios of the speakers, look at when the special events will occur (awards dinners, etc.), peruse the sessions. Take a deep dive into:
Sessions being offered, as mentioned.
Determine: "What do I really need to learn?"
Set up your schedule to achieve your learning goals.
Do you need to get better at Instagram? Is your downfall lack of time management to enhance your productivity? Do you want to learn more about Facebook ads? Maybe knowing how to get your pets to cooperate for branded posts is your goal. Perhaps you want to get back to basics and take a "101" type session–refreshers are never a bad idea.
Whatever your learning goal–and you should know this before you've paid for the conference ticket and booked your flight–make sure the conference you're considering attending will meet those goals. You may love Speaker X, but if that is the only person speaking on a topic you want to hear about, will you get ROI? Only you can decide that.
Be visible 
It's so much easier to walk into a conference venue if you know someone! One way to do that is to be visible and build relationships before you get to the conference. This hearkens back to interacting on the conference's social media pages–the savviest conference planners understand the importance of relationship-building as part of the conference experience and they set up private FB groups, LinkedIn groups and others. Be active. Be visible. Get to know people before you get to the conference. NOTE: In the next post I will share tips for on-site relationship-building.
I have attended Social Media Marketing World for the past four years, and it is a substantial investment in my business. Because there are so many attendees, it's almost impossible to imagine you will simply run into someone you want to meet while you're there. You need to connect, plan and set a firm, "let's meet for lunch at the back table in the networking plaza" or it won't happen. The people I meet on site are those I have been interacting with prior to the conference and meeting them IRL cements the relationship and could turn into a potential business relationship.
Start the conversation
If you want to meet up with like-minded bloggers or pet lovers, make that known in the conference groups. "Hey, I'd love to meet up with fellow (insert breed here) lovers and grab a coffee/drink. Who wants to join me?" Easy as that you have started making friends with whom you know you have something in common.
Even if you're an introvert, like many bloggers I know are, it's easier to make friends online than to walk up to a group of strangers and say, "Hey, let's talk!" am I right? Be bold online before you even get to the conference.
You never know, there could have been that one person lurking, hoping someone would say, "I want to be your friend…"
I've met many pet bloggers at non-pet blogging conferences simply because I've interacted in the groups the conference coordinators had set up and asked the question, "Any pet bloggers attending?"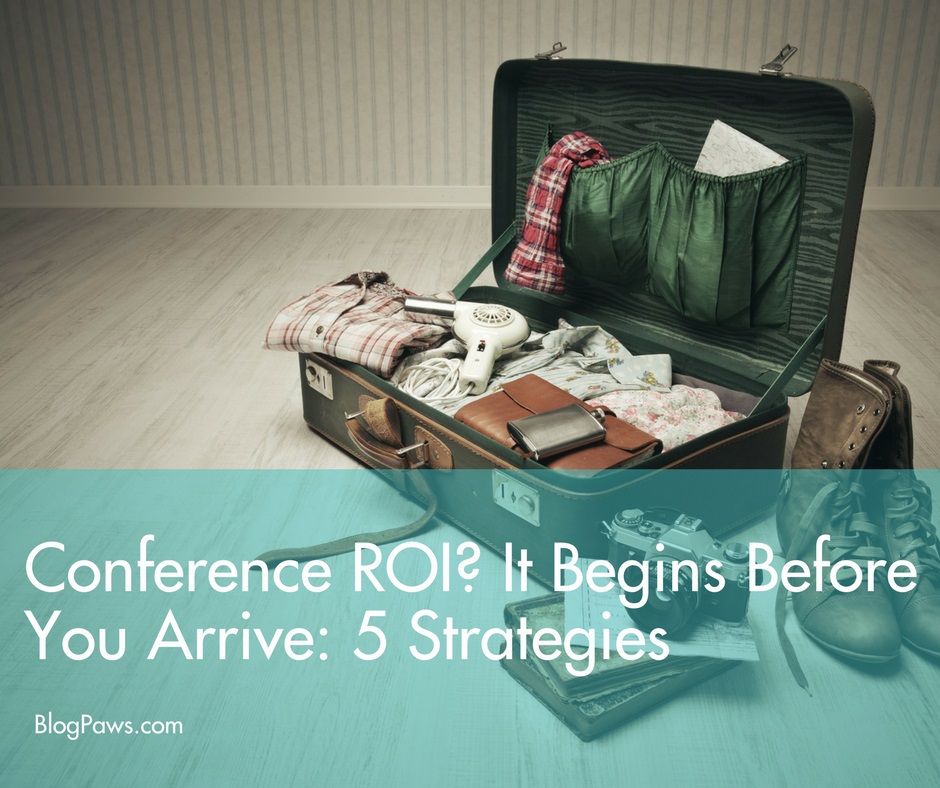 Pack what you need 
Most conferences will have paper and pen available for conference attendees, but if they don't, you want to be prepared and not be panicking last minute. Here are items to pack (this is a minimal list):
Your phone, laptop AND chargers
Business cards
Comfortable clothes (check beforehand what the dress code is — many conferences are business casual)
Clothes for fancy events that may be occurring (you will note this when you check the agenda)
If you're a presenter, bring all you need for the technology for the presentation, print handouts or at least one handout for yourself in case there are tech glitches
Items your pet needs (this is obviously BlogPaws conference specific)
Paper and pen (in case your tech isn't fully charged)
A refillable water bottle
Something to snack on
Whatever else will make you comfortable while you're away from home
I have a printable packing list that I keep in my suitcase for my trips. I pack like I am going to the moon and there will be no where to replace my mascara, toothbrush or if I need an extra pair of underwear! Packing lists make me feel comfortable (number 10 on the list!)
There's no time like the present to make friends, plan meet-ups and plot the schedule for the sessions you want to attend. What kind of pre-planning do you do before you attend a conference? How do YOU measure your conference ROI?
Robbi Hess is an award-winning author, full-time writer, newspaper columnist, writing coach and time-management guru. She works with bloggers and solopreneurs and blogs at All Words Matter. I will be speaking at BlogPaws 2017 as part of the Cat Writers' Association. My topic is: "Overworked & Overwhelmed? The Four-Step Process for Reinventing Your Writing" Synopsis: Whether you're writing full time, blogging, in the midst of a multi-book project or just starting out, this session will help you lose the feeling of being overworked and overwhelmed. You'll learn a four-step process to beat procrastination, use time blocking to help you get more done, claim your writing time and bump up your creativity and some in-the-trenches writing tips, hacks and advice. There will be giveaways, handouts and time for questions! Hope to see you there!