Whether you attend large trade shows like SuperZoo or Global Pet Expo, smaller regional shows, or local events like festivals and farmers' markets with your business, in-person networking is an important skill to have. In this article, we're going to help you prepare with a few key tips for networking events.
Just like many things, there are three parts of networking – the beginning, the middle, and the end. In the beginning, you want to prepare by making lists and schedules, printing business cards and marketing materials, and preparing your elevator pitch. While you're at the event, you're actively engaging in conversations, asking questions, meeting new people, and learning new things.
Once the event wraps up, your work isn't done. Take some time to rest your feet and your mind, but you still have work to do to truly leverage your networking experience.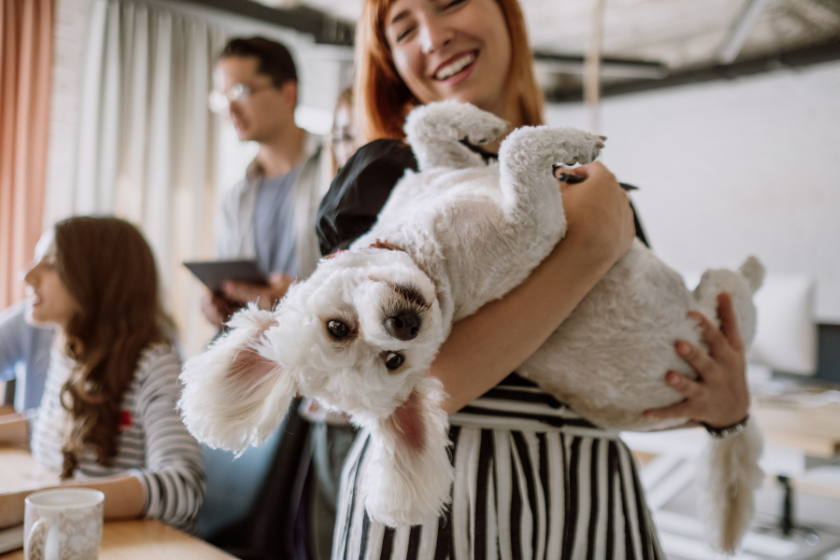 Why Networking Is Important in the Pet Industry
Just like many other industries, we're doing more and more of our work online. When we have the opportunity to meet each other face to face, it's important to take advantage of it.
In-person networking events allow us to meet new people who are outside of our normal radius, learn about new products and brands within the industry, and stay up to date on the latest industry trends and happenings. It doesn't hurt that many of our pet industry networking events feature pets too!
Though there's been a push for virtual networking over the last few years, these virtual events still don't provide the same opportunities for striking up a conversation in the coffee line or while riding the elevator. These unexpected encounters can sometimes be the most valuable in adding new people and new information to your radius.
Long story short, in-person networking is still valuable and here to stay. That was further reinforced by the 16,000+ pet professionals who flocked to Las Vegas for SuperZoo earlier this year.
6 Follow-Up Tips for Networking Events in the Pet Industry
1. Organize your business cards and flyers
If you don't come back from a networking event with a bunch of business cards and other pieces of paper, then did you really even go to a networking event?
We are fans of going paperless when possible, but business cards are still the norm for exchanging contact information with those who you meet. That means that it's likely you'll return home with a stack of business cards. Whether you're following up, meeting someone new, or just raising awareness for your brand, business cards offer an important opportunity.
The trick to getting the full value out of these tiny pieces of paper is to keep them organized. While you're at the networking event, have a system in place for where you store the cards you collect. For some, a pocket of a bag, a small pouch, or inside their name badge might work. Others might want a notebook specifically designed for storing business cards. No matter what your system is, keep them organized as you go. This is one of those tips for networking events that is often overlooked!
After the event wraps up, double-check that you didn't stick a card somewhere accidentally when you were distracted or in a rush. This will help ensure you have the contact information for everyone you need to follow up with in one place.
2. Create a system to track contacts
Once you've organized your paper and cards, the next step is to actually organize the contact information. This will ensure that you reach out to each person and will also make their contact information readily available for the future when you might need it again.
If you love a good spreadsheet and all things digital, check out Airtable for all your organizational needs. You can input the information from business cards as you would in a normal spreadsheet, but Airtable allows you to easily filter, sort, and group that information on the fly. You can even build out a table for all your contacts, group them by networking event, and set a status to indicate if you still need to follow up or not.
If that's not for you, then a classic list will also do! If you don't copy over the contact information from the business cards, then make sure you keep those accessible and organized in a notebook, pouch, or binder.
3. Create an email template
Once you're ready to follow up with everyone you met or reconnected with at the event, you'll want to start by creating an email template. This will help save you time in your email outreach.
When creating your template, you'll want to leave room for personalization. Personalized emails have a better open rate and are more likely to help you achieve whatever your networking goals might be.
Types of personalization include:
Contact name
Business name
Product name
Topics discussed
Types of possible collaboration
Further information
Upcoming event or campaign details
Where you met or reconnected
Email templates are very useful tools! They can also get us in trouble when we fall victim to a copy and paste fail, so always double-check before you send!
4. Try LinkedIn
Email is an amazing tool, but we can't control what gets put into spam or how many other emails our recipient has unread in their inbox. LinkedIn quite literally is an online networking platform. If you have already put the effort in to start the networking process, why not see it through on LinkedIn?
When connecting on LinkedIn, the rules are the same for email. Always send a personalized message with your connection request. Create a template you can easily personalize, but don't forget to check for copy and paste errors before you hit send.
5. Plan Ahead
You may have noticed that some of the personalization opportunities listed under #4 include providing further information about something you discussed or sharing details about an upcoming event or campaign. To do these things, you'll need to plan ahead. You'll need to know what's coming down the pipeline in your business.
To be successful, part of this should be done before you leave for the networking event altogether. There is a chance, however, that some of the conversations you had with your new acquaintances about their business goals or needs might alter your service offerings. Give your customers what they want, right?
That's why you should always build in a little time to look forward and plan ahead before you follow up with your new contacts. A follow-up email or LinkedIn message that contains actual plans, suggestions, or information is much more valuable and meaningful than a message that just says "nice to meet you!"
Don't get us wrong! If you have nothing else to say other than nice to meet you, that's better than nothing and still worth the reach out. If you can provide more in your follow-up, definitely do!
On the other hand, if you don't have future plans securely enough, you don't want to lead someone on or provide incorrect information. If you aren't ready to share, you can always reach back out because after all, you are connected now.
6. Be Timely
I just told you to build in some extra time before doing your follow-ups, but at the same time, you want your reach outs to be timely. While you don't want to necessarily send your follow-up immediately after meeting someone, you do want to send it before people move on to the next thing.
Ideal timing can vary by the scale and importance of the event. For large shows like SuperZoo and Global Pet Expo, they are still topics of conversation for a month or more after the show wraps up. For smaller or more local events, your optimal window might be only 48 hours to a week. One of our best tips for networking is to make sure that your networking email follow-up or LinkedIn message doesn't fall through the cracks by waiting for too long.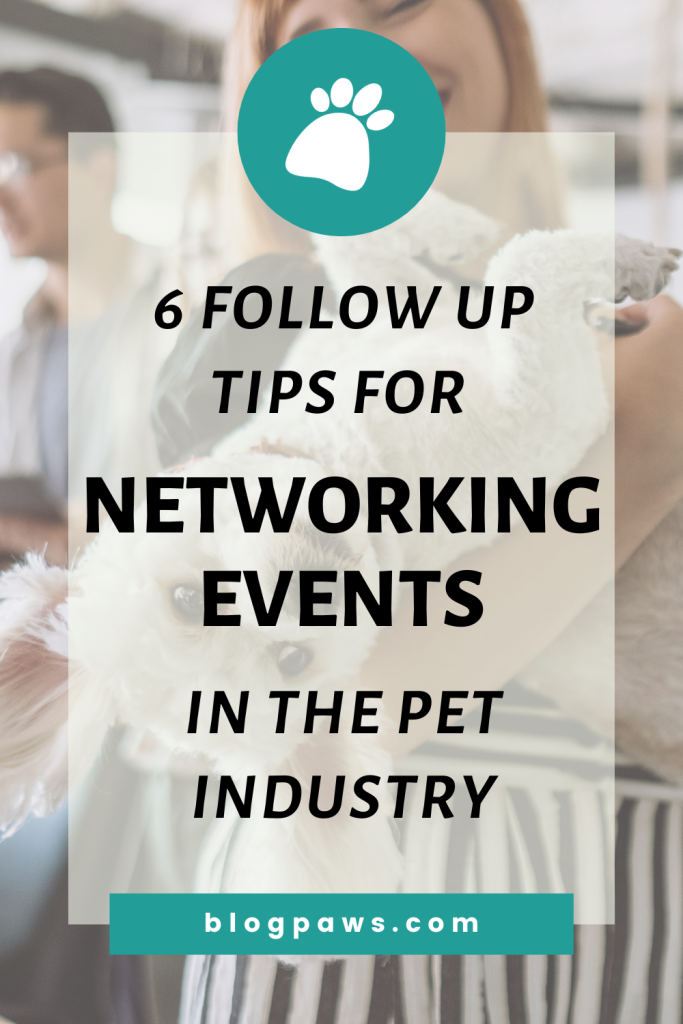 Bonus Tip: Log Your Lessons
Recording and revisiting the things we learn as we go is one of our favorite past times here at BlogPaws. After every large campaign we do or event we attend, we have a "download" meeting where each member of the team shares what went well, what didn't, and what we can do differently next time.
The trick? We write it all down.
That way when we are planning the next campaign or the next event, we can refer back to our list. I can't even count the number of times we have completely forgotten about a suggestion for improvement until we went back to our list of lessons.
This is a great practice for anyone trying to grow their business through new opportunities and experiences. You don't have to be an expert at networking to start. By reflecting on your time at a networking event, you are setting yourself up for more success the next time around.
Whether you love or hate networking, it's an important skill that allows you to grow your business and expand your contact list. In the pet industry, the value of face-to-face interaction is no different than in other industries. The best way to harness the true value of attending a networking event is to have a plan for follow-ups and to follow these six tips!
Do you enjoy networking? What steps do you take to ensure you follow up with your new contacts? We invite you to share your tips for networking events in the comments section.
About the Author: Jessica Shipman is the COO / CMO of BlogPaws. She has been in the pet industry since 2013, when she accidentally became a content creator and launched Beagles & Bargains. Since then, she has loved leading the All Pet Collaborative, a membership group for small pet business owners, with Chloe DiVita and engaging in the BlogPaws Community. When she's not planning content or researching SEO keywords, you can find Jessica loving on her two dogs, Luna and Ralph, and putting her Ivy League Engineering Degree to work as a sought-after web developer.