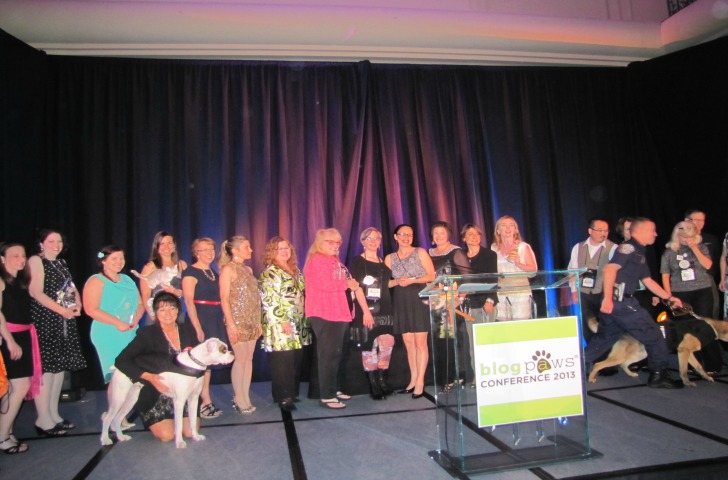 by: Carol Bryant
Why don't more people notice my blog and just what do I need to do to get some eyes on my blog? I want traffic, I want to be recognized, and just how can BlogPaws help me? Well we know some techniques to drive blog traffic. Keep reading.
Ah, the million dollar loaded question, and we definitely have an answer for you: Get to blogging, participate in conversations in the 3,100+ BlogPaws Community, attend our Twitter chats, be involved in the Pet Blogger Influencer group, and you could also be selected for our many paid programs to qualified bloggers.*
Cases in point: At the present time, there is one day left for us to accept nominations from you or anyone you wish to nominate in a variety of categories for the 3rd Annual BlogPaws "Nose-to-Nose" Social Media Pet Blogging Awards.
The "Nose-to-Nose" Awards is the only awards program in which pet bloggers and microbloggers are judged on their expertise, creativity, and performance in one or more of 12 categories by a panel of distinguished professionals. The BlogPaws Nose-to-Nose Awards are not a popularity contest!

Want Your Blog to Be Seen While Being Creative?
Check out what these BlogPaws Community members did on their blogs. And if you did a post like this, send it on over to me at carol at blogpaws dot com, so we can spotlight you as a shining example of what a professional blogger does to highlight themselves in a creative, concise, and very unique way.
A professional highlights why he or she feels they deserve to be nominated for an award as prestigious as the BlogPaws one, and here is a shining example of how to make a post work for you from BlogPaws Community member, Ann Staub:
http://www.mypawsitivelypets.com/2014/02/nominate-your-favorite-pet-blogs-for.html
If you have no idea which post to nominate, why not reach out to your readers at BlogPaws Community member, Christie Zizo, did:
http://www.lifewithbeagle.com/2014/02/blogpaws-nose-to-nose-awards-help-me.html
Go for it, outline it, highlight, and tell why you want something. Get your readers involved like Caren Gittleman, BlogPaws Ambassador, does:
http://www.catchatwithcarenandcody.com/2014/02/nomsoh-wait-not-those-kind-of-noms.html
Headlines that are appealing to your reader and draw them in can help attract eyes, as evidenced by BlogPaws Community member, Cathy Keisha:
Nosing in on the Nose-to-Nose Nominations: http://www.stunningkeisha.com/2014/02/nosing-in-on-nose-to-nose-nominations.html
Put yourself out there and make it known you want to be nominated, just like Tails from a Foster Kittens did:
http://www.kittyblog.net/2014/02/2014-nose-to-nose-awards.html
Showcase what you want, and judging by the layout of this post, Amy Shojai has her eyes set on a prize:
http://amyshojai.com/2014/02/07/nominations-blogpaws-nose-nose-awards/
Show, don't tell: We are forever telling our bloggers to show what you want – just don't tell it: Here's a paw-fect example of what Glogirly wants:
http://www.glogirly.com/2014/02/nominations-now-open-for-3rd-annual.html
Here's another example of how to make your blog work best for you and pull in traffic and eyes:
http://savannahspawtracks.com/2014/02/10/monday-meowsie-news-with-a-late-request/

Did we miss your post and you want to be featured? We'll be highlighting well-constructed posts like these in a series after the nominations, so let it be known and email us with the post you write. Send it to carol at blogpaws dot com.
What You Need To Know
Finalists will be announced on or about March 5th through the official BlogPaws site and on various social media channels. The winners will be awarded during a live red carpet awards ceremony during the BlogPaws 2014 Conference, which takes place May 8-10, 2014, in Henderson, Nevada—just 30 minutes from the Las Vegas Strip.
You do not have to be a blogger to nominate someone, so head on over to the BlogPaws link and hurry: the nominations close in one day on February 12th! https://blogpaws.com/events/conference-2014/nose-to-nose/2014-nose-nose-award-nominations-open/
"Bloggers are rewarded for their excellence in writing, photography, video, design, charity work, microblogging, dog, cat, humor, cause (shelter work) and more," said Yvonne DiVita, co-founder of BlogPaws. "Our awards are given out at the conclusion of the conference in a big 'Oscar-like' red carpet ceremony.  Last year we received almost  1,000 nominations! We expect hundreds more this year."
Finalists of each BlogPaws "Nose-to-Nose" Social Media Pet Blogging award will receive a badge to display on their blog and a free conference pass to BlogPaws 2014. Winners will receive a one of a kind personalized trophy at BlogPaws 2014 and are recognized within the pet blogging and microblogging sector for their achievements.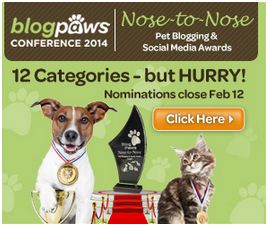 Can BlogPaws Really Help You?
We are here to help bloggers grow and achieve their goals. We can teach them you how to promote your blog if you are willing to put forth the effort.
What can you do now? Actively engage in our community, most importantly come to the BlogPaws Conference in May, and let us help you.
We highlight community members that are active in the community, work hard at what they do, and contribute to the community in a meaningful way.
Now with the paid programs, and most importantly the conference, we have many things in store if you come to the conference to take full advantage of them.