Video integration is a necessary part of a social media and blog strategy. If you are growing your blog as a business, video should be one of the tools you call upon regularly. Of course, anyone can pick up a camcorder, use an app, or shoot a video segment using a phone. Knowing advanced video tips to get blog and social media traffic will help you stay ahead of the pack.
Here are five advanced video tactics, and stay tuned for the bonus tips, too!
Video Backend Blog Tips
Digital Marketing Strategist, Patrick Delehanty of Marcel Digital, has specific tips when it comes to using videos for a blog:
Schema Markup: Google and other search engines collaborated on code and javascript that allows you to markup content on your website that helps search engine crawlers understand what important information is on a page. This is called Schema.org and can be leveraged for videos as well. Using this tactic is also thought to help you rank higher.
Video Sitemap XML: Create a video sitemap XML that search engines can crawl and give credibility to your website for the video content. This will also help Google return videos in their search that point to your website, leading to increased organic visibility and traffic.
Facebook Video
"One thing I think is important for video content producers to know about distributing their content via social media in particular is that Facebook's algorithms will favor native video content over links to videos outside of the Facebook ecosystem," says Simon A. Thalmann, a digital marketer and writer for Kellogg Community College.
If producers want to potentially increase the reach and engagement of their video content on Facebook, Thalmann says you get more return for your efforts if they upload the video to Facebook than if you post links to the same video on their blog or platforms like Vimeo or YouTube. "Whether or not this is a strategy that will work for certain producers depends on their goals; it will potentially increase the number of people who see their video, but obviously won't lead directly to more click-through traffic from people clicking to watch the video on a blog, for example," he said.
Easy to Use Advanced Video Apps
Do yourself a favor and make besties with a few video apps, as the clean, easy-to-use interfaces make video production a breeze.  In her role as social media marketer for Ad Social, Anita Davila says there are many free online video making apps you can sign up to use temporarily.
One example she cites is the RIPL app. It is subscription based, but a free 30-day trial offer is available. "All you need to do is upload the pictures you take and type in your  killer script," Davila says. "Video needs to be short: 30-60 sec. People have a short attention span and you will lose most 10 seconds into your video."
She also says that if you are short on time to upload images, well, that's okay. Davila recommends VideoBlocks.com; sign-up for a free trail and start downloading royalty-free footage. "You can also sign up for their royalty-free audio," she shares. "They also have free After Effects for the more video advanced editor.  And most of them come with instructions. You would need to have access to After Effects."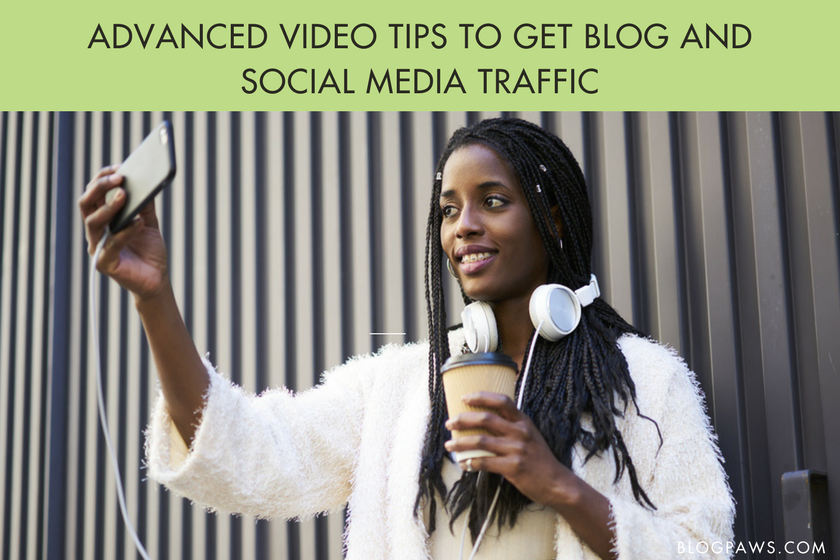 Videos Without Sounds
A 2016 report from Digiday states that over 85 percent of Facebook videos are viewed without sound. Video is a compelling visual medium for content marketers to tell their stories, but what happens when you take the sounds away? Many popular social media platforms restrict the use of sound. Public relations and video specialist Amanda Speroni of Thornley Fallis Communications says users scroll through their Facebook timelines and watch videos without sound, so savvy bloggers and social media influencers must think outside the box.
"How do we ensure our message is being heard without sound?" Speroni ponders. "Easy – adding compelling, interesting captions, and titles. Adding these important elements will keep the viewers interested but also keep them focused on what your message is."
In the video below, Speroni, explains how and why content creators need to optimize their videos without sound:

Video Advertising
Video advertising is really cheap right now, says Jason Parks of The Media Captain, a digital marketing agency. "For $10 on Facebook and $10 on YouTube, you can get thousands of impressions and hundreds of views on your video, which will create a snowball effect," he says. "If the video is good, people will share it and it'll get great interaction. If you put no money or don't spend any time on distribution, your video will just be like a great book that nobody read. "
Bonus Tips
The first six seconds of your video not only have to grab your viewers attention, but those six seconds have to drive the point across.
Always have a call to action: Perhaps you tease the call to action in the video itself. Are you giving a bonus tip or a freebie away at the end? Tell your viewers up front!
On YouTube, thumbnails are extremely important. Try to make custom thumbnails on YouTube rather than selecting a frame from the video, according to Stephanie Reck, of Tomorrow's Day You Tube Channel. "When you make the custom thumbnail, try to make it punchy with big bold text. Use a text color that stands against the picture. Try to take the picture from the video itself or have it somehow related to your channel. Don't use "click-bait" pictures… it may get you a view, but also a dislike to go along with it."
Don't Stop Now
If you liked this post, check these related posts to help you with your blog as a business and video strategy:
How to Effectively Use Video to Grow Traffic
How to Create a Call To Action to Get Readers Clicking Through
8 Tips to Use Video for Blog Traffic
What's your favorite tip from the above and did we miss any tips for video production for bloggers and social media influencers? Tell us in the comments below.
Carol Bryant is the Marketing and Social Media Manager for BlogPaws and runs her own blog, Fidose of Reality and its fundraising arm, Wigglebutt Warriors. When not busy playing with her Cocker Spaniel, Dexter, she stays far away from cooking. Her trademark is her mantra and is tattooed on her arm: My Heart Beats Dog.®
Images: Voyagerix/Shutterstock.com and GaudiLab/Shutterstock.com