Earlier this year, The New York Times reported the results of a study that found adult humans are less focused than fish.
Really.
"A survey of Canadian media consumption by Microsoft concluded that the average attention span had fallen to eight seconds, down from 12 in the year 2000. We now have a shorter attention span than goldfish, the study found." (source)
As content creators, we grapple with that attention span with every post, tweet, and share. What will keep our audience's attention? How can we not only attract but also retain readers?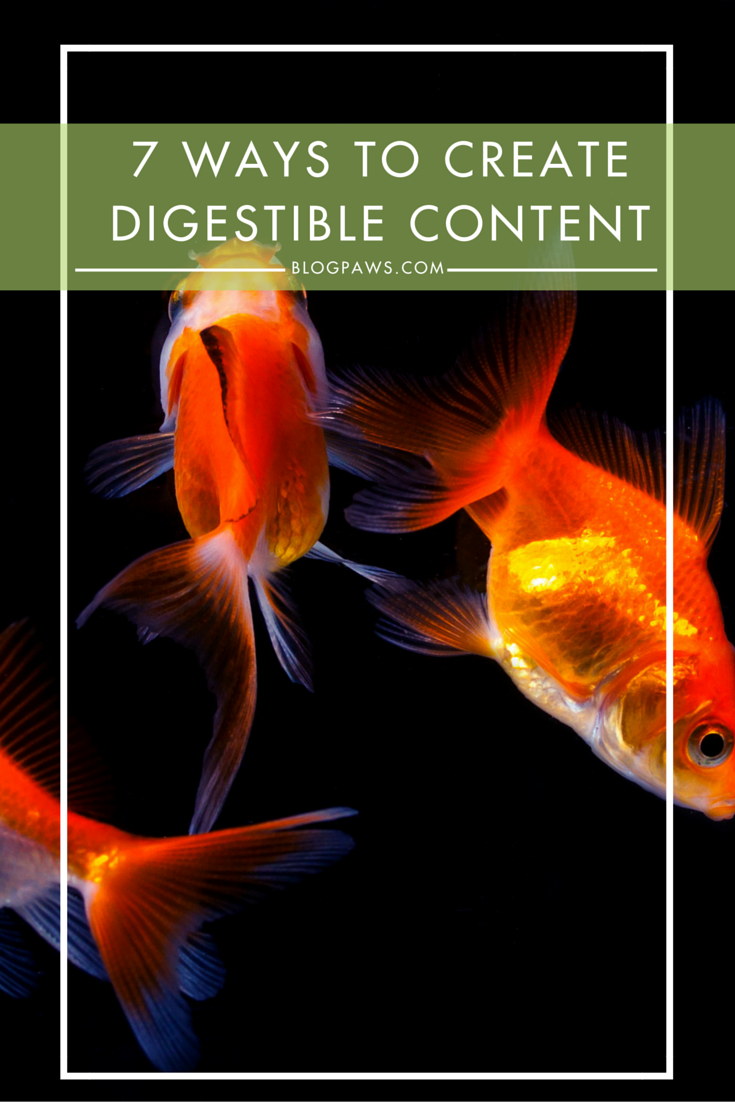 Here are 7 ways to create digestible content for your pet blog:
Break long paragraphs into short ones. Even a single, long sentence can serve as its own paragraph in digital publishing.

Instead of long pieces of prose (for which I am guilty), use bullet points and lists–like this one–to push readers forward.

Include subheads (this is a great way to leverage those H2 headers for SEO juice) and bold key points.

Illustrate your posts. Visuals help ideas stick, and compelling visuals can entice skimmers to become readers.

Don't fill your social shares with spoilers. Instead, tease your post in a short, concise sentence that highlights the best part or the benefit of your content.

Check out

this infographic to get all the optimal lengths for social updates

. Experiment with what resonates with your audience.

Digestible translates into shareable. But you have to make it easy for your readers to do the sharing. Include correctly-sized images, Twitter-length titles, and SEO-friendly meta descriptions so that your time-starved readers don't have to exert effort to share your content.
All that said, long-form blog posts can deliver tremendous value–if they're done right–so don't feel like you shouldn't ever expand on a topic in-depth. That's another topic for another day, but if you're interested in learning more now, check out this post about long-form content.
Which, if any, of those seven strategies have you tried on your pet blog? What works on your blog with your audience? Have you found anything that doesn't work?
Please share your experience with creating digestible content in the comments!
Maggie Marton serves as the BlogPaws senior editor. When not hiking with her two pit mixes, Emmett and Cooper, or playing with Newt the Cat, Maggie writes about them (and the pet industry) at ohmydogblog.com and maggiemarton.com. 
Image: I AM NIKOM/Shutterstock.com