Every March, the Global Pet Expo takes place in Orlando, Florida. This event is the world's largest annual trade show in the pet industry. Since I've had the privilege of attending the last few years, I can attest that it is quite the event! This year there were over 3,500 booths and 3,000 new product launches.
The massive size of this event makes a lot of sense when you consider the estimated spending in the U.S. pet industry for 2017 was $69.5 billion. Yes, billion! That's more than we spend on jewelry, movies, and even hardware. I'm so proud to be part of an industry and community with this big of an impact!
With so many exhibitor booths and new product launches, this event truly gives insight into the coming and current trends in the pet industry. While attending the show, there were seven trends really jumped out at me.
Pet Food Toppers and Mixers
It's no surprise that pet food is the largest category of spending in the pet industry. Pets have to eat after all! And it's also not a big surprise that there are more pet food brands than you can count on all four paws. For pet food companies to stand out they have to keep innovating and listening to their customers. Adding options for variety to a pet's meal was a big trend at this year's show.
Petcurean launched a new line of freeze dried meal mixers under its GO! Solutions™ brand with specialized solutions like weight control and hip and joint support. Each recipe features a primary protein as well as whole fruits and veggies. Wellness expands their existing CORE line with Bowl Boosters™, a mixer or topper made of freeze dried proteins like beef and chicken (PURE) or moist air dried nuggets (TENDER). This adds to their existing mixer and topper option, Simply Shreds. And those are just two of the new topper or mixer options!
Meal mixers and food toppers allow pet parents to spice things up when it comes to their pet's food by introducing a bit of variety without having to cook or over complicate the meal. These products may also be a great resource for pets who are picky eaters.
Limited Ingredient Diets
Another pet food trend that has been growing in popularity over the years is feeding a limited ingredient diet (LID). It seems like most major pet food brands have migrated towards limiting their ingredients to avoid allergens and sensitivities, while some even have entire lines dedicated to LID.
I and Love and You launched a new LID, high-protein kibble called Lovingly Simple™ with two recipes – Whitefish and Lamb. Merrick® Pet Care revamped their ingredient list for their LID dog food. Mars Petcare also launched a new LID line underneath the NUTRO™ brand as part of their new NUTRO. FEED CLEAN ™ philosophy.
Most of these diets are grain free by removing corn, wheat, rice, soy, and white potatoes. Instead they look towards easier to digest carbohydrates like lentils, chickpeas, and sweet potatoes and limit the number of proteins to just one. Figuring out just what is the best alternative is still a work in progress. Some brands are moving away from using any kind of "potatoes" by even removing sweet potatoes from their recipes.
Probiotics
Just as they have been growing in popularity for humans, probiotics for pets have also been gaining traction. Probiotics are "good" bacteria because they help prevent the activity and growth of harmful bacteria such as E. coli and Salmonella. They can be used to help tackle common digestion issues like upset stomachs, gas, loose stools, and even bad breath. You can find these tummy supports for pets both as supplements and in food.
You can find both probiotics and prebiotics (food for good bacteria) in every kibble recipe from I and Love and You. Fidobiotics is a company dedicated to providing human quality probiotics for both cats and dogs. They offer several different probiotic products in supplement form.
Pet Tech
Pet tech is another trend that just seems to be constantly growing each year. With everything becoming connected to the internet, it just makes sense that our pets are included too! This year the big focuses seemed to be automatic feeders, interactive toys, and pet relief products.
Yes, I said pet relief! Now you can find automatic litter boxes (LavvieBot, PetSafe), doggie doors (Wagz), and even dog pee pads (BrilliantPad). Where there used to only be a few options for automatic feeders and treat dispensers, now there abundance of options. As a bit of a tech nerd, I'm thrilled to see this because the competition will certainly cause an increase in efficiency and user experience and hopefully a decrease in price!
As for interactivity toys, the winner of Best New Product in the cat category was Petronics with Mousr. Mousr is a robotic mouse that was designed to play games with cats. It can sense when a cat is playing with it and change its behavior. How cool is that?
Calming Aids (and CBD)
I've been attending the Global Pet Expo since 2013 and over the years I have seen the number of calming aids just explode! As we humanize pets, we want to tackle problems we face with them and problems they face on their own even more. One of those common problems is removing stressors and relieving anxiety to help keep our pets calm.
Probably the biggest trend right now related to calming is CBD (cannabidiol) and hemp oil. CBD is extracted from the cannabis plant, but is different from the psychoactive compound, THC, also found in cannabis. Hemp oil alone does not contain CBD or THC. In recent years, CBD has been used by people with anxiety, PTSD, epilepsy, and more, so it is no surprise that it has made its way into the pet industry too.
I was actually surprised to learn that there actually aren't many regulations, so different brands may do things very differently even down to how they extract CBD from the plant. As this trend grows, I'm sure we'll learn more about what works and what doesn't. If you decide to try out a related product, be sure to ask questions to know what you are getting (CBD vs. hemp oil) and avoid making any big health claims when sharing your experience.
While at the show, I spoke with a variety of different CBD brands including Treatibles, Dope Dog, and Pet Releaf. Plus, two companies that utilize hemp oil without CBD – True Leaf Pet and My Pet My Scent. My Pet My Scent also utilizes YOUR scent to help keep your pet calm and anxiety free when you can't be with them.
Outside of CBD, there are numerous products hitting the market using essential oils and pheromones. Adaptil offers pheromone collars and diffusers, while Pet Remedy offers herb-based sprays and diffusers.
Super Cute Lifestyle Products
If you or your pet loves donuts, then you are in luck because they were everywhere! You could not only find donuts and tons of other trendy foods as toys, but also on beds, collars, leashes, harnesses, and more. The six pack of donut toys from FabDog were almost too cute to resist!
On top of cute food trends, other popular lifestyle products included designer collars and leashes, brand name dog beds, and costumes allowing pets to dress up as almost anything. Now you can get your dog their very own La-Z-Boy dog bed from Petmate, hats that also double as toys from P.L.A.Y., and limited release collars and leashes from Lupine Pet. As pets become more and more a part of the family, I only see this trend growing and growing!
Outdoor and Travel
Products related to traveling and going on outdoor adventures like hiking and camping with pets is another trend that will only grow as pets make bigger and bigger impacts on family life.
Now you can find dedicated hiking gear, tents, life vests, and even sunscreen for pets. Companies like Kurgo and West Paw are also coming out with gear for humans that make bringing your dog along even easier such as convertible leashes, treat pouches, and jogging belts with leash attachments.
With an increase of people traveling with their pets, both by air and the car, companies like Sherpa are expanding their collections of carriers, seat belts, harnesses, and other travel gear.
Which pet industry trend are you most excited for?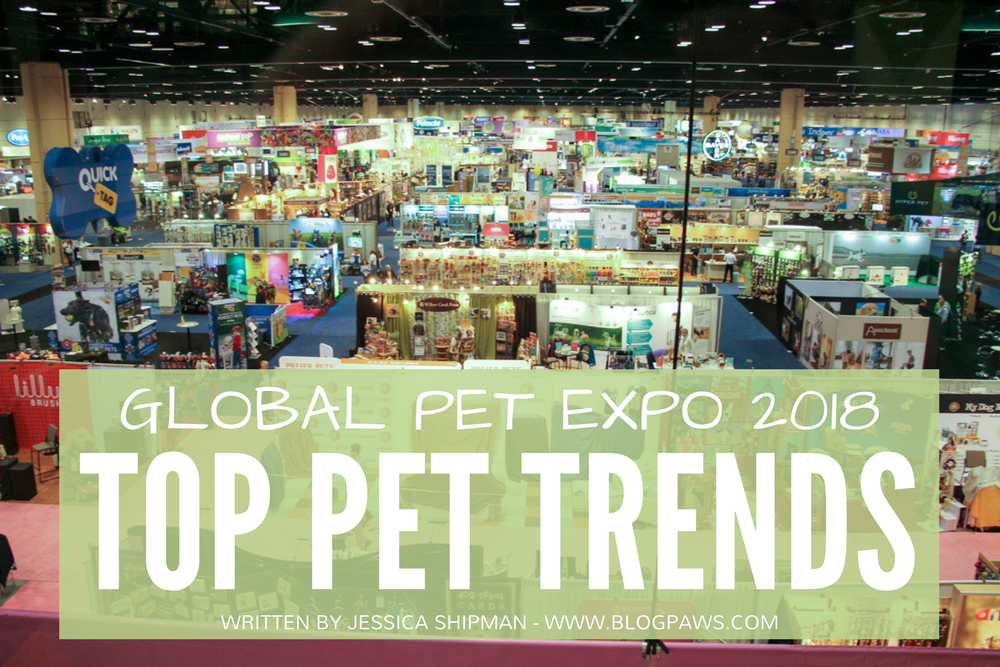 Jessica Shipman is a bargain hunter, food lover, and software engineer figuring out how to be a pet parent for the first time. She shares her journey with her two dogs Ralph and Luna on her blog Beagles & Bargains. After getting an Ivy League degree and hands on experience on a corporate web development team, Jessica has decided to change things up. She launched jessicashipman.com to make web technology easy and more accessible to bloggers and small business owners. Stop by for free tips or to learn more about her web development consulting. You can also find out more about Jessica's Global Pet Expo experience by visiting Beagles & Bargains.