Post by Aimee Beltran, Director of Community Education
Over the past two months since I joined the BlogPaws team, I've been doing a ton of analysis and behind the scenes work for the Social Learning Center.  For something as large as the SLC, it's important to take a step back to get a clear strategy and a solid foundation. As an Instructional Designer (and blogger!) I follow a process called ADDIE.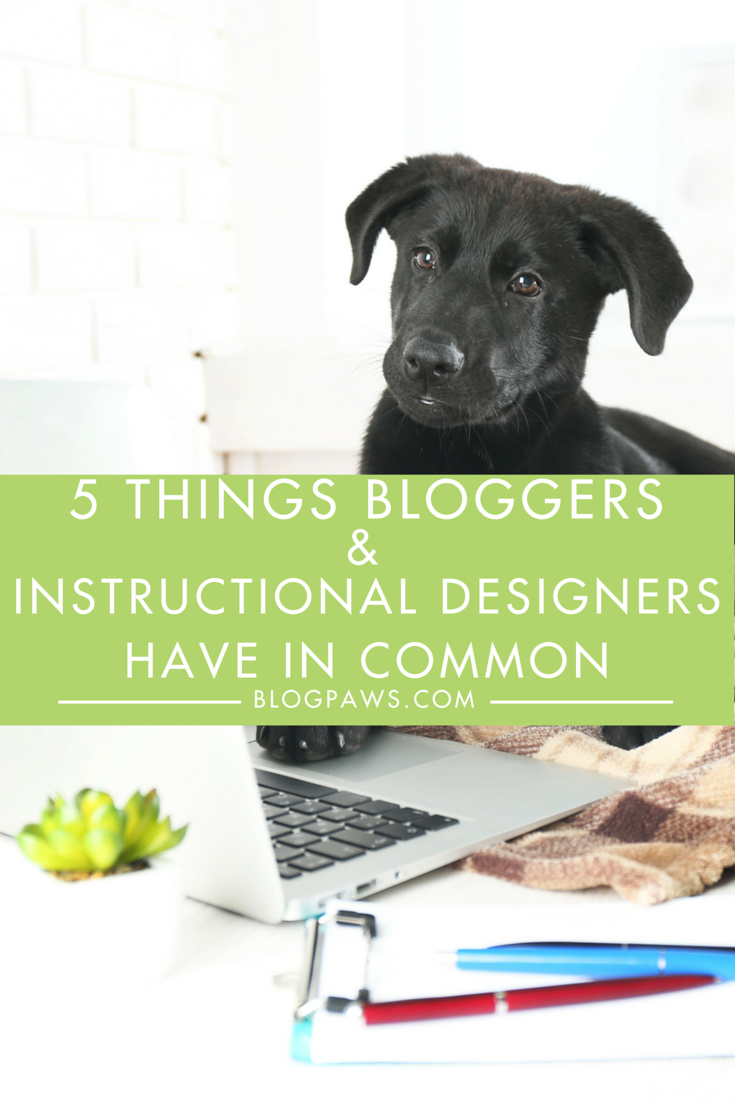 ADDIE stands for:
Analysis
Design
Development
Implementation
Evaluation
This process doesn't happen step by step in a silo. While the analysis has been going on, I've also been designing and developing. For example, I recently created an "official" Branding and Style Guide for our team. While it was being designed, I shared the document with the team to get their feedback. Then I used that "evaluation" to tweak and improve the guide. Nod your head if you get the gist.
ADDIE is an ongoing loop!
This got me thinking about how much instructional design is like blogging. I actually use the ADDIE model when I'm writing a post or any piece of content! Let's talk about the five steps of ADDIE and how you can start using this to plan your blog posts.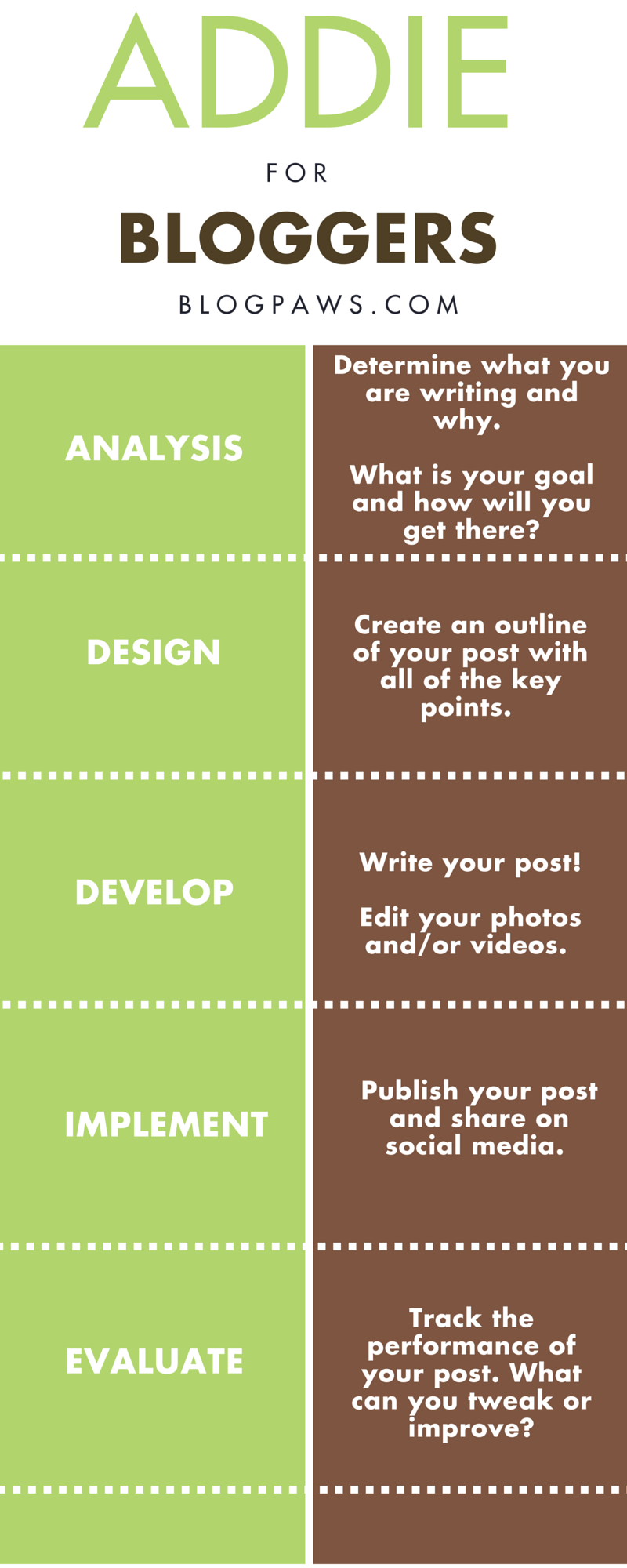 Analysis
When you're creating a course, the analysis phase identifies the performance gap. It explores the reasons "why" training is needed and what it will solve. How does this translate to blogging?
Analysis Phase for Bloggers
When I'm planning a post, I use the analysis phase to answer questions like:
Who is the audience?
What do they need to know?
What do I want them to do with the content? (Subscribe, share, etc)
How will the content be delivered? Blog post, social media post, video, ebook, etc?
Design
The design phase is when I outline the course. This outline includes my course title, learning objectives, lessons, assessment questions, and any supplemental materials I'll need to create.
Design Phase for Bloggers
Post Outline
Post Title
SEO/Keywords
Introduction
1-3 Key Points
A list of images I'll need
A list of links to include
A plan for how to share the post
Develop
Create the course. The development stage is what I like to call "heads down" time. This is where everything comes together that you have analyzed and designed.
Develop Phase for Bloggers
In blogging this is where the "meat and potatoes" of the work is done.
Write all of your content
Record videos
Edit images
Implement
Publish and distribute the course to the learners.
Implement Phase for Bloggers
In blogging, this is the publish phase.
Scheduling or publishing the post on your blogging platform
Scheduling social media shares
Evaluate
Collect learner performance and other feedback. Evaluate the overall effectiveness of the training program and edit/revise as needed.
Evaluate Phase for Bloggers
In blogging, there are lots of ways to track how a post is doing. If you set clear goals in the analysis phase this part should be easy to measure. For example, "This purpose of this post is to create awareness by generating 10,000 page views this month." That is a goal you can actually evaluate!
Just like with instructional design, you should always have the evaluation phase in mind from the beginning. Some numbers or "calls to action" to think about are:
Engagement on social media
Number of comments
Page views
Email subscribers
Sales of a product
Incorporating the ADDIE phase into your blog writing can help take you from good to great. It doesn't have to take up a lot of time. It's about asking the right questions before you do something and making sure it fits into your overall strategy.
How will you use the ADDIE model in your next blog post?
Photo: Shutterstock Black Lab on Computer Desk