by: Carol Bryant
There are many spectacular elements involved in every BlogPaws Conference. From the educational aspects to the networking and on to meeting the brands in person and being able to connect with experts in the industry one on one, the BlogPaws Conference is truly like no other. I know because I've been to every single one and I will be at every one henceforth.
One element of the BlogPaws Conference comes on Saturday evening, May 10th. The BlogPaws Nose-to-Nose Pet Blogging and Social Media Awards take place. For those who want to know just what these awards are, what they mean, and what went into this year's judging process, read on. We're going behind the velvet ropes of the BlogPaws awards.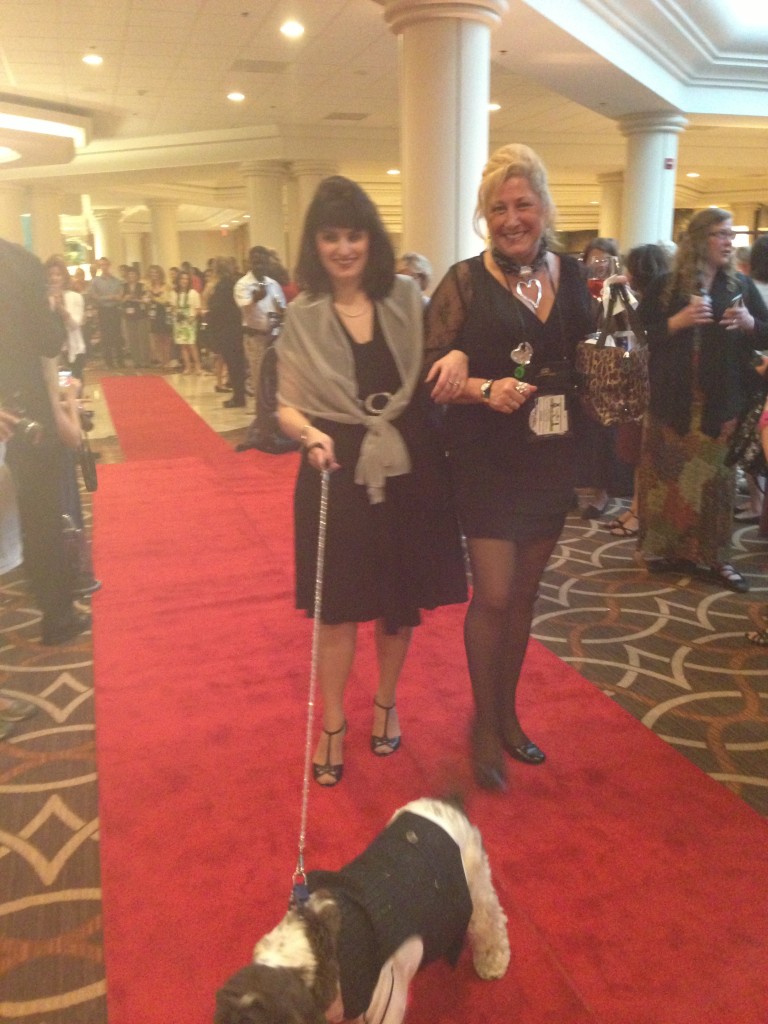 I am pretty stoked just to walk the red carpet with my dog and friends!
A panel of professionals judged the candidates based on creativity, expertise, and performance. Participants were not and never will be required to garner votes or drive likes to their social media sites.  At its core, the Nose-to-Nose awards will never be a popularity contest.
Finalists of each Nose-to-Nose award will receive a badge to display on their blog and a complimentary conference pass to the BlogPaws 2014 Conference. Winners will receive a one of a kind personalized trophy at BlogPaws 2014 as well. In addition, BlogPaws has upped the bar, as there will be post-conference rewards, accolades and attention given to our winners.  Stay tuned for more details on that, but be aware that the winning begins when the trophies are awarded; it does not end.
In the event you missed the announcement, here are the Nose-to-Nose finalists, with winners revealed at the BlogPaws Conference. We plan for media coverage and interviews post award presentation.
Now here's some scoop on what you don't know. Our judges report that had a very difficult time mulling over the nominees. And just how many nominees were there?
Well, in two short years, our awards have grown to unimaginable levels. This year alone, we received hundreds more entries – nearly 1,500 across the 12 categories – showing how important these awards have become to our community.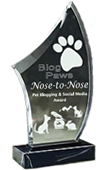 Just getting the nominations sorted into scoring sheets for the judges was quite the monumental task. We owe our judges extreme gratitude for their dedication and commitment to helping with this huge undertaking.  BlogPaws staff, of course, is not eligible for any of these awards.
Oh, and speaking of judges, know that all nominees were judged by an outstanding panel that included: (and Google these names, these are impressive folks)
Feel free to offer your suggestions for which blogs/posts/photos  we could/should have included by leaving a comment here, or maybe even do up your own Nose-to-Nose snub post. We're honored that people care so much, and we encourage feedback.  Heck, the shocking snub lists continue to light up the Twitterverse and Facebook news feeds, include some of these snub surprises.  So know that if you were overlooked this year, you shouldn't stop trying, nor should you feel you failed.
As someone who was a nominee time and again for a variety of awards over the years, I know the disappointment felt in not getting that trophy, securing a nomination, and the feeling of anticipation followed by the heavy sigh of being let down.  Trust me, I felt like Susan Lucci many times in my life.
Then I remember why I am in this business and what this is all for: by, for, and about pets and their parents. I blog to inform, to share, to connect, to educate, to save lives, and to be a better person each and every day that I take to my keyboard. How many of you are nodding in agreement because you blog for many, if not all, of the same reasons? That's your award day in and day out, and don't forget that.
Oh, and as an aside, these awards are the pet blogger equivalent of winning an Oscar. The awards are officially called the "BlogPaws Nose-to-Nose Pet Blogging and Social Media Awards." They are called Nose-to-Nose because going that close to brands, speakers, peers, and networking is what BlogPaws is all about:  some go face to face, but as pet bloggers and microbloggers, we prefer to say "nose to nose!" Here is what happens at these awards:

The awards not only recognize bloggers, but also microbloggers, 501(c)3's (a new category this year), and both photos and videos.
So hold your head just. Being nominated is an honor. There is strength and power in giving pets a voice, and as pet bloggers and microbloggers, BlogPaws celebrates and honors all of you who do this each and every day.
BlogPaws writes the blogs that make the whole world read, and we are honored you are a part of this community. Hope to see you at the BlogPaws 2014 Conference.
Blog on.