Each year, the BlogPaws Team has chosen Ambassadors to help promote the conference, help out newbies and to assist in "being the faces" of BlogPaws leading up to, and at, the conference. This year we featured our four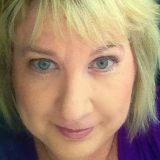 Ambassadors in our newsletters and asked them some "getting to know you" questions.
We continue our series with Kimberly Dickerson.
Here are her answers to our "getting to know you" questions:
What was your first pet? A cat named Missy. She was a gorgeous long haired calico I adopted.
What would you do if you won the lottery? Buy a house with lots of land so I could adopt more shelter pets.
What are your blogging goals this year? To write more tutorials/tips & tricks centered around WordPress. I have five years of WP experience so I'd like to share my experiences to help new WP  users &  help those who are afraid of the technical aspect of WP.
Why are you looking forward to the Conference?  It's amazing!  Each conference is a wealth of information. I learn something new every year. I like meeting new people, catching up with friends, previewing fabulous pet products, giving belly rubs & head scratches & networking with  "my people." Register with my discount code:  BP15-Amb-Kimberly-10