As Thanksgiving week winds down, I wanted to take a moment to reflect on the concept of gratitude. As corny or cliché as it might sound the first thing I say every single morning is "Thank You."  I'm incredibly grateful for the career and lifestyle I've been able to create. I never take it for granted that I get to work from the comfort of my home office with Chuy! He keeps me in check around here!
Five years ago when I decided to leave my job to pursue my dreams of blogging full time, I knew it would be hard. I hit a lot of roadblocks but I never gave up. Each setback  was secretly a setup for a learning opportunity. I guess that's the instructional designer geek in me . . . I see everything as a learning lesson.
As bloggers and social media influencers, there's a lot to learn. All. The. Time. I learn something new every single day! I also believe the key to success and happiness is to never stop learning. Don't lose your curiosity. We are still in the pioneer days with this blogging game and there's a lot more trails to blaze! When you pick a "traditional" career, there's a defined path to follow. In this game, we're carving out our own paths. I love that!
This journey is a ton of fun but it can also be scary! I'm grateful for all the experiences, good and bad.
So what's the point of all this gratitude stuff anyways?  How can it help me in my blogging career? Here are five ways gratitude can help you learn and grow your blog.
1. Be Open to New Ideas
Gratitude opens your heart and your mind. When you're only focused on worry and the negatives, you have no clarity. Practicing gratitude helps unclutter your brain and enables you to see things from a different perspective. You'll be open to learning new things that will propel your blog and business forward.
Practicing gratitude is a skill that takes time. The best way to learn? Just start doing it! Every morning, I take out my gratitude journal. I allow myself to write freely for about 10 minutes. I like to list out the top things I'm grateful for at the moment. It starts my day with a fresh and optimistic mindset. To help you get started, I've put together a one page Daily Gratitude Journal right here that you can download and print.
2. Share With Your Community
Whenever I figure out how to do something really cool in WordPress I get a little too excited! There's something gratifying about figuring things out on your own. I also get the urge to share it with my tribe that "gets" me. It's a good thing we have this community because Chuy doesn't seem to be impressed when I dance around my desk after I learn something new.
This is where gratitude comes in. Chances are there's a million other bloggers that could also benefit from your new skills! Don't be afraid to share what you've learned. The BlogPaws community is a great place where our members are already doing that. My hope is that the relaunch of the Social Learning Center will encourage more sharing and learning within our community!
3. Thank Your Readers
Even if your social media following and traffic numbers aren't huge,  be grateful for the readers that you have. Even if it's 20 people, that's 20 people interested in what YOU have to say! Take the time to thank your readers. This can be a simple social media post, a blog giveaway, or just interacting with them and telling them how much you appreciate their support.
4. Give Credit Where Credit's Due
Show some gratitude to your fellow bloggers! A strategy that I use on my blog is link roundups. It's a way for me to curate "irresistible" content for my readers and lets me promote awesome bloggers.  If you see great content that your audience would appreciate, share it! This is a great way to practice gratitude in your blogging and it helps build better relationships with the community.
5. Enjoy The Journey
One of the biggest lessons I've learned over the past few years is to enjoy the journey and be in the NOW! Chuy has a lot to do with teaching me the value of this. When you look back at this season of your life, you might miss it.   Stop taking everything so serious. This is supposed to be fun!  Laugh a little. Take a timeout and play with your pet. Be grateful for where you are right now in YOUR journey and enjoy every moment of it!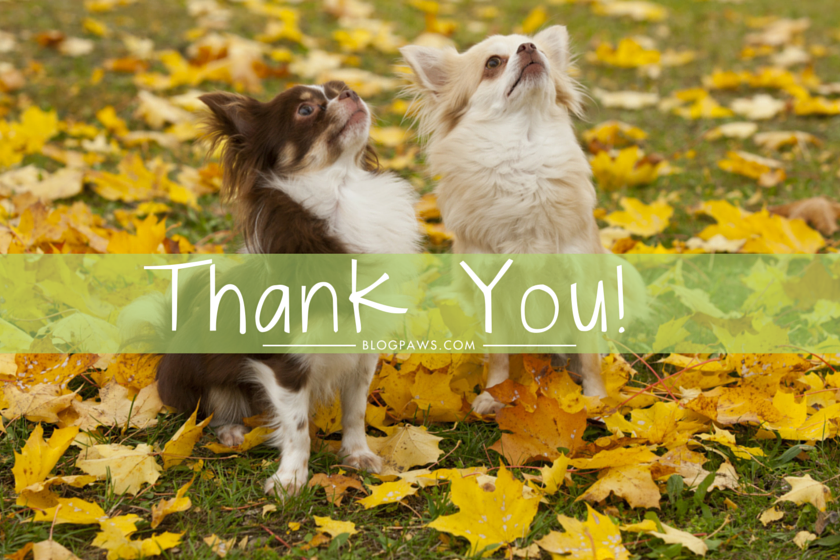 Thank You!
Let me wrap this post up by saying Thank YOU!  I have been reading all of your survey feedback about the SLC. You are appreciated and I learn so much from each of you every single day! Stay tuned in December for the next steps about where we are heading with the SLC.
Keep learning. Keep growing. Stay grateful.  Go hug your pets and enjoy the rest of this Thanksgiving week!
Join The Conversation!
Now it's your turn! Tell me in the comments below what are you most grateful for?