Guest post by Blog Manager Robbi Hess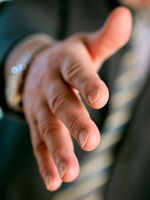 Blogpaws 2012 is fast approaching and with that, you'll need to learn how to approach people at the conference, right? Perhaps. It depends on whether you're attending to meet other pet lovers or whether you're looking to network with industry professionals to grow your pet business or whether you've just decided to delve into writing and want to meet individuals who can help you. 
So how do you introduce yourself? It's a fine art. Of course, when you meet a potential editor with whom you can work or a writer that you're interested in connecting with, you want to tell them who you are and what you do and why they should work with you, but you want to do more than that: You want to build a relationship. Relationships last longer than a handshake at a networking event. 

Here are five ways to get to know someone over a handshake: 
Ask their name and what they do. Wait to give your pitch until you know who this person is. 
Take an interest in what they say. Feigned interest will show and you won't build a relationship. 
Once you've heard who they are and what they do, offer your pitch by telling them how what you can do will enhance what they do. For example, you're meeting with a magazine editor or the editor of a blog that offers travel tips for dogs and you just happen to be someone who traveled by car to Utah for the conference with your dog — perfect story idea in the making, right? 
If you have a specialty or an area of expertise make certain you let the person know, "Hi, I'm Jane Doe and I write for several newspapers all about dog-related issues based on my years of being an animal adoption advocate." Whew, that is a mouthful but you get the idea. 
Exchange business cards. Follow up after the conference. 
When you're standing up in a networking event, like the kind I attend on a weekly basis, you're given the chance to give a 30-second commercial about yourself. You stand up, take a deep breath and launch into who you are, what you do, your business name and the perfect client for your business. It's a lot to do in 30 seconds and it's not the easiest way to build a relationship. You need to follow up with individuals from the meeting afterward to build a rapport. Networking and relationship building is all about what you can do for each other. 
Are you ready for your pitch?