How many of you can relate to seeing a face like this cutie pie staring up at you, wanting play time or a walk? Tiffany Archer is the proud mom of this sweetie. Tiffany and 2,000 others like her are BlogPaws community members. Are you a member??? BlogPaws
2013 is fast approaching and so is Wordless Wednesday!!
It is time to join the BlogPaws' Wordless Wednesday Blog Hop. It's easy and you simply post your pet photo(s) on your blog and then link up below – then get to hopping! Visit and leave comments on other blogs to make some new buddies and maybe some new followers.
You can add the BlogPaws Blog Hop button to your post and/or to your blog sidebar, either by cutting and pasting the image or using the HTML code below.



Need help? Here it is: How to Join a Blog Hop – BlogPaws Tutorial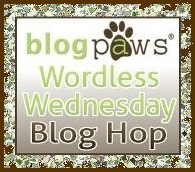 Featured Wordless Wednesday photos are randomly chosen each week from photos posted by BlogPaws Community members. Please do not email your photos. If you're not a member, you can join us here: BlogPaws Community Center. It only takes a tail wag time out of your day (or night).
If you aren't already a member, there's no better time to
join the BlogPaws
Online Community! It's fast and it's free. And of course, there's the
BlogPaws 2013 Conference in Tysons Corner, VA. Join us!!!