Bella the Blue Heeler shared byTiffany Hughes
This month BlogPaws is celebrating International Pet Blogger Month!! Have you been joining in on all of the fun events we have put together for you? oH and keep your eyes open for the much anticipated BlogPaws or Bust Contest so that you can enter to win an all expenses paid trip to BlogPaws 2014.
For now we would love for you to join the BlogPaws Blog Hop for "Wordless Wednesday." BlogPaws offers year-round interaction, activity, community and more to learn, earn, and connect. Plus we have the weekly tradition of the Wordless Wednesday BlogPaws Blog Hop! All pictures posted in the free BlogPaws Community are eligible to appear on this post each week.
Visit and leave comments on other blogs to make some new buddies and maybe some new followers. You can add the BlogPaws Blog Hop button to your post and/or to your blog sidebar, either by cutting and pasting the image or using the HTML code below. 


Need help? Here it is: How to Join a Blog Hop – BlogPaws Tutorial
/span>
Need help? Here it is: How to Join a Blog Hop – BlogPaws Tutorial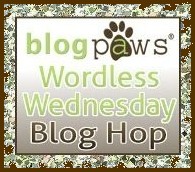 Featured Wordless Wednesday photos are randomly chosen each week from photos posted by BlogPaws Community members. Please do not email your photos. If you're not a member, you can join us here: BlogPaws Community Center. It only takes a tail wag time out of your day (or night).
If you aren't already a member, there's no better time to join the Pet Blogger Online Community!