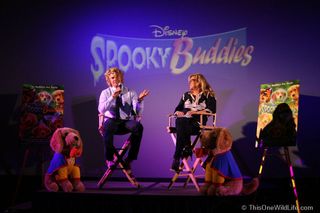 We got to see the first official Press Screening of Disney's Spooky Buddies. Imagine what amazing things will be in store for us in 2012!
Picture submitted by Kim Clune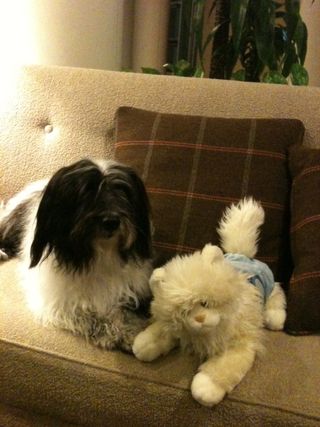 Meeting our online friends even if they don't like to travel and send a Doppelgangers in their place. Cosmo and Cokie Cat meeting.
Picture submitted by Cokie the Cat

Did someone mention swag? I bet there were some really happy dogs and cats when their owners arrived home with a suitcase full of toys, treats, and clothing. The swag bags just keep getting getting more and more awesome. Who knows maybe next year they will come with their very own puppy or kitten already inside.
Picture submitted by Kim Clune
Head's up Pet Bloggers: We would LOVE more pictures posted to the community to give us lots to choose from for Wordless Wednesday. We hear from everyone who has been chosen that they love waking up to the Wednesday morning surprise of having their baby front and center for everyone to look at!
Love Wordless Wednesday because you get to post pictures of your pets? Well it is now 100 times better! Each week BlogPaws is going to create a link up for the community for you to add a link directly to your Wordless Wednesday Post. That way we can all share and enjoy each others pets. The rules are super simple: Show us your pets! Leave a link directly to your Wordless Wednesday Post Visit other blogs and say hello (don't forget! This is the part that is the most fun!)
Remember to leave a comment to let everyone know you stopped by for a visit. Share the link up with your readers so they can join the community and link up as well. You can grab the code and place it on your blog or you can refer your readers right back to the Wordless Wednesday post of the week.
If you would like your pet's picture featured as our Wordless Wednesday picture of the week, please join the BlogPaws Community Center. Pictures you post there have a chance of making it to our Wordless Wednesday. You can post as many pictures as you want in our community – we encourage it! We never get tired of looking at all your pet pictures!
PS. Please make sure to upload full size pictures that are good quality so they can be used for the Wordless Wednesday post.