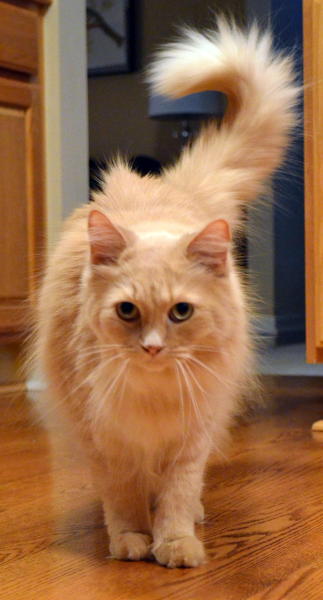 Is your cat a Guard Cat patrolling your house for unwanted invaders, making sure that everything is in order? Meet Pickles! That is his favorite job according to his owner. With a kitty like that I think that everyone would want their own guard cat keeping watch and making sure the family is safe from unseen evils lurking.
BlogPaws is all about celebrating your pets and the life they lead with you. Whether they are the best couch potato in your state or the best squirel watcher or even the biggest Diva we want to meet them and get to know them. Which is why we do Wordless Wednesday. It is the day each week when your pet shines! Whether your post is Wordless or Wordy we want you to link up and share so that we can get to know you and your pet.
You can add the BlogPaws Blog Hop button to your post and/or to your blog sidebar, either by cutting and pasting the image or using the HTML code below.
Need help? Here it is: How to Join a Blog Hop – BlogPaws Tutorial
Featured Wordless Wednesday photos are randomly chosen each week from photos posted by BlogPaws Community members. Please do not email your photos. If you're not a member, you can join us here: BlogPaws Community Center. It only takes a tail wag time out of your day (or night).
If you aren't already a member, there's no better time to
join the BlogPaws
Online Community!