by: Carol Bryant, BlogPaws' PR Manager
By now you probably heard the good news: BlogPaws announced it has
joined Pet360 Media, the leading online
digital media network for pet bloggers, advertisers and publishers. By
combining Pet360 Media's expansive network of leading online resources with
BlogPaws' social media conferences and blogger community, the partnership
creates the world's most influential group of advocates and professionals in
the pet industry.
So as things surface and even more opportunities are brought
forward to BlogPaws' bloggers and micro-bloggers, here are a few things you can
do to immerse yourself now and learn so we can all get ready for the good
things ahead:
Join the FREE BlogPaws community, if you have not already
done so. We engage, interact, share news, dispense tips, and work in real-time
answering real questions from real members. We make exclusive announcements
there, too.
 Pet360 Media is the leading
digital media network for advertisers, publishers and bloggers looking to
target pet parent households, expand their reach and maximize their revenue.
The network is comprised of the leading online resources for pet parents and
delivers high value media solutions across both third party and O&O sites,
including www.Pet360.com,
www.petMD.com
and www.PetFoodDirect.com. Visitors to
these sites, mobile apps, and blogs are passionate, engaged pet parents who
want the best for their pets and trust Pet360 to provide the content and
products they need. For more information, visit www.Pet360Media.com
or send an email to media@pet360.com. 
 Become a part of the BlogPaws
Pet Blogger Opportunity Network. We've developed a set of Frequently
Asked Questions so you can be a part of the monetizing and get all your
questions answered right out of the gate.
Register to attend the BlogPaws 2013 Conference
in Tysons Corner, Virginia, taking place May 16-18, 2013. This is going to be
one of the biggest and most outstanding conferences to date and we expect a
sell-out. Early bird pricing is available and it makes a nice stocking stuffer
for the pet blogger or microblogger in your life. We also set up a list of
BlogPaws' conferences Frequently
Asked Questions, too.
Follow us on Twitter and Facebook if you aren't already. We
update daily and host monthly Twitter chats on the second Tuesday of every
month. Our recent 12-hour #BlogPawty was one of our biggest and best ever, and the
sky's the limit. Engage with your friends, make new ones, learn, and network
the second Tuesday of each month. More details on BlogPaws Twitter chats here:
#BlogPawsChat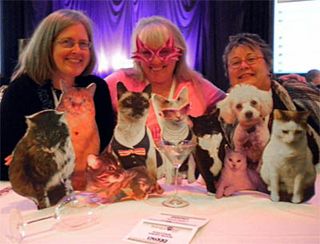 BlogPaws makes news and our media appearances and networking
are ones you can follow with us in the BlogPaws
media room.
Join the BlogPaws
Blogger Disaster Response Network. We all saw the recent devastation caused
by Hurricane Sandy. If you want to be a first responder in helping pets in
need, whether with a Tweet, a post, or in many other ways, join our network.  
Follow our Be the Change for Pets
BlogPaws page on Facebook to stay current with how animals are being
helped, how you can paw-ticipate, and help us give back.
Founded in 2009 by three dedicated pet lovers and bloggers,
BlogPaws helps pet bloggers and enthusiasts connect digitally, build their
online presence, enhance their social networks and support animals and
shelters/rescues across the world. BlogPaws works year-round to connect
bloggers and micro-bloggers to the brands they buy every day. The BlogPaws community
site welcomes pet bloggers, pet enthusiasts, pet people on Twitter and Facebook
and brands eager to tap into a vibrant, vocal community of serious writers,
bloggers, and micro-bloggers. For more information, connect with BlogPaws at https://www.blogpaws.com,
on Facebook at http://www.facebook.com/BlogPaws,
and on Twitter @BlogPaws.