by: Carol Bryant
Who wants to cash in on their content and make money? In these economic times (heck, and always for that matter), we need to support ourselves, earn an income, and be able to pay the bills while affording our pets and ourselves a life, right?
We've got two experts who are well-versed in this department and are coming to BlogPaws to share the down-low with attendees. Susan Daffron and James Byrd will be hosting a session on Friday, June 22, in Salt Lake City, called "Product Development: Cash In On Your Content." Curious how?? Here's the scoop…

"When it comes to earning money from their blogs, many bloggers think about advertising or sponsorship. But as a blogger, you're a writer and your content *itself* has value. In our presentation, we'll explain how you can take your content a step further and "recycle" all your fantastic content into books, ebooks, workbooks, training, membership sites, consulting packages, and other high-end products. Instead of making pennies per click, you'll make dollars and develop relationships with your customers that last for years," Daffron shared.
How many of us have posts, blog writings, content galore and are thinking "Well, that's that, I can't do anything else with what I wrote." So not true! Susan and James will show attendees how to take their work and turn it into resellable products.
Susan spoke on the book publishing panel at BlogPaws 2011, so this marks a return trip for her, with this being the first time around for James.So other than her fab presentation and knowledge imparted, why does Susan return?
"BlogPaws combines two of our favorite things: writing and pets. Being among a lot of creative people who love animals is energizing and fun. This year, we plan to bring our dogs. So keep an eye out for the Super Cute Fuzzy White dogs," she shared.
James and Susan havetwo dogs: Fiona ,who is a 3-year old Samoyed, and Kaylee, who is a 4-year old collie/Samoyed mix (probably). They will be coming to BlogPaws. They also have a 13-year old tabby cat named Troi who will be staying home.
Now for a fun fact about the dyamic duo: Susan told us, "We started marketing online when we moved to a tiny town in Idaho in 1996 (Sandpoint has 7,000 people). People often comment about how we have "so many products" and have published 12 books in the last few years. When we started, we connected to the Internet using a 26K dial-up modem. (We couldn't even get 56K!)
Unlike most people who work online, we don't have screamingly fast DSL lines. We work from a log home in the middle of 40 acreas of forest and still use satellite and cellular Internet, which is sometimes annoying and definitely expensive.
 But we have managed to earn a living online for more than 15 years and survived two recessions from right here in the middle of nowhere. If we can do it, anyone can! As you can see from the pictures, the *reason* we live here is so we can enjoy exploring this beautiful area with our dogs!!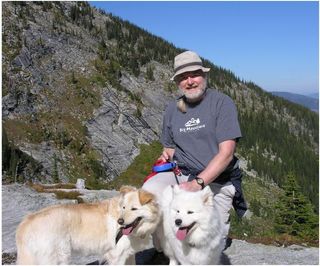 Come to Salt Lake City, meet Susan and James, and join in the fabulous 3-day event:  BlogPaws 2012
Catch up on our BlogPaws Speaker Series in the BlogPaws Community.
Connect with the couple here:
Speaker's website(s)  – Logical Expressions, The Book Consultant,  NAPRP,  Funds to the Rescue,  Susan Daffron,  Self Publishers Online. …and about 20 more. We have a lot of web sites 😉
 Facebook profile – http://www.facebook.com/susandaffron
                           http://www.facebook.com/jameshbyrd
Twitter page – http://twitter.com/susandaffron
LnkedIn profile – http://www.linkedin.com/in/susandaffron
                        http://www.linkedin.com/in/jameshbyrd
YouTube video – http://www.youtube.com/user/scdaffron