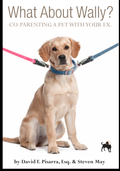 Imagine the heartbreak involved when a couple splits up and the family dog is caught in the middle. David Pisarra knows all too well, as a nationally recognized pet expert.
David is a family law attorney, and Steven is a nationally recognized Pet Expert. David and his ex broke up and they continued to share their dog Dudley. Steven was going through his divorce and he shared his pets with his ex-wife. They came together to create What About Wally? Co-parenting a Pet with Your Ex. And he will be appearing at BlogPaws along with co-author, Steven May. 

The book is part memoir, telling the story of how David and his ex share Dudley… and part how to guide for couples who are breaking up but want to develop a co-parenting plan.
 
Pisarra and May are making a second appearance at BlogPaws and already tell us they are planning for the next one. In terms of pets, Steven and David are animal lovers. Pisarra has Dudley,  a long haired black and tan dachshund; he's 8 and very pampered we are told. Steven has Winnie, a King Charles; CeCe, a Chihuahua mix; and Tequila, a green parrot.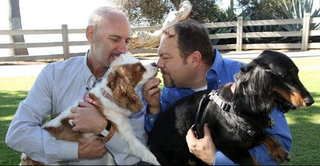 Get the scoop whether you are coming to BlogPaws 2012, a part of our year-round community, and/or will be starting your plans for our 2013 conference. Here's more:
Check out the Daily Growl Blog, on Twitter @WhatAboutWally, and on Facebook.
See you at BlogPaws 2012!