By: Carol Bryant
BlogPaws 2012 is over. The lights have been turned out, the red carpet's been rolled up, and all attendees headed home. So now what? Is it over and does the countdown begin for BlogPaws 2013? Yes and yes <insert HUGE PAUSE here>.
Your ROI begins. Admission to BlogPaws included a plethora of pet-related sessions, vendors, networking, and more; but BlogPaws the movement is a year-round engagement…and one in which we hope you'll engage. So what should you do now that BlogPaws the conference is over? Engage. Re-engage. Up the engagement.
E-mail: Sort through those business cards you collected. Did you take any notes on the back of them? Can you remember who was who? The longer time goes on, the harder it might be to remember conversations and cards exchanged. Reach out and thank someone for talking to you, see how you can engage and work together.
Follow, LIKE, and Connect: Find fellow BlogPaws attendees on Twitter, Facebook, LinkedIn, Google +, Triberr, etc. In other words, connect.
Plan blog content: Take what you learned at BlogPaws and write, write, and write some more. Have you seen the 50 ideas for post BlogPaws blog posts?
Sponsor Connection: Did you meet brands at BlogPaws? We know you did, as floor traffic was at an all-time high. Stay in touch, connect, follow their Twitter feeds, and introduce (or re-introduce) yourself.
Join the Community: If you aren't already a member of our FREE community, now's the time to join. Whether or not you attended (and if you didn't, this is even more reason to join). Our community is one of like minded, passionate pet bloggers, helping one another expand our networks and achieve our online goals.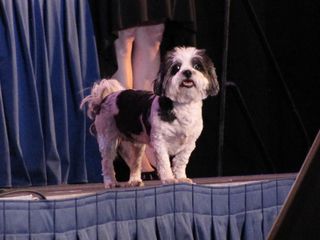 Electric Slides: We have all the slides from the educational sessions posted online for those who did (and didn't) attend BlogPaws 2012. 
Share BlogPaws Posts and Pictures: We have a LINKY forum set up; promote your blog and show us what you posted. Watch as the list grows, grows, grows. 
#BlogPawty: Did you know we host twitter pawties? Keep in touch with fellow attendees and keep the network flowing.
Show us Your Pictures: We do a Wordless Wednesday Blog Hop every….Wednesday! Each week BlogPaws creates a link up for the community so you can add a link directly to your Wordless Wednesday Post. That way we can all share and enjoy each other's pets. The rules are super simple: Show us your pets! Leave a link directly to your Wordless Wednesday Post Visit other blogs and say hello (don't forget! This is the part that is the most fun!) Remember to leave a comment to let everyone know you stopped by for a visit. See? 
Check the BlogPaws blog daily: We update just about every day on BlogPaws.com. Check in, ask us about guest blogging, and give us your feedback.
Be a Part of the Change for Pets: Be the Change for Pets is a movement created by the passionate BlogPaws community. It represents the collective actions of members of the online pet community determined to make a difference in the lives of pets. How will YOU Be the Change? Tell us! 
Start saving for BlogPaws 2013: We're heading back to Tyson's Corner (near Washington D.C.) May 16-18. Start saving now… with nearly a year to save, plan for the conference and jump start the savings now. (been there, done that, it works).
Stay tuned for contests, more news, surprises galore, and year-round engagement. The 2012 conference is over, but the BlogPaws journey continues. Check in, stay connected, and keep engaging.
What are you ready to do now?