By Tom Collins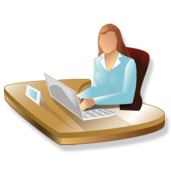 This post grew out of a lively discussion over in the BlogPaws Community Blog Talk group over what to do when you discover another blog or website is republishing your content (group created by Dawn Miklich, afFURmation blogger). It started with Stephanie Hulett of The Shelter Shack blog asking for advice after she found her latest post copied verbatim (including images) on another site.
A few key points that emerged from the discussion and my follow-up with Stephanie:
Finding the Filchers
Several people asked questions around how to know if your stuff is being republished — or copied, stolen, infringed … you pick a term. Stephanie learned that her post had been stolen because it showed up in her WordPress trackback/pingback list of sites linking to her blog. Rene Agredano (Tripawds blog) shared links to an earlier thread on the "repurposing" problem and a LiveWorkDream post that mentions another passive way you may find out: friends recognize your stuff on someone else's site!
More proactive approaches are found in links to posts on ProBlogger and HyperArts blogs. But in our follow-up messages, Stephanie herself sent me a link to the most comprehensive resource I've seen, a post by Kristi Hines on the KISSMetrics blog: Content Scrapers – How to Find Out Who is Stealing Your Content & What to Do About It, where she describes several methods, including:
CopyScape – a content search engine with free and premium versions
Google Webmaster Tools – Kristi provides details and screenshots
Google Alerts – again with details and screenshots
In addition, while looking at an article on the difference between plagiarism and copyright infringement, I discovered that PlagiarismChecker.com (a favorite tool of teachers and professors) now has a specialized tool for checking webpages! It can even create on ongoing Google Alert for you.
Sue the Bastards?
Sorry. The legal training kicks in unexpectedly now and then. ;-P
Actually, as shown in my initial reply to Stephanie and you'll see in the HyperArts post linked above, there's a line of reasoning that says, "Do nothing." As long as the thieves are smart enough to give you credit and a link back (in order to give some semblance of credence to any "fair use" defense they might want to raise), you may get some SEO and/or exposure benefit. The HyperArts post even offers some strategies for enhancing those "benefits."
But if you really want to get the offending content removed, here are the leads I offered for helping you get that done:
A recent GigaOm article comparing DMCA with the proposed SOPA law and giving some insight into how much misery you may be able to cause the infringer – http://gigaom.com/2011/11/27/with-friends-like-the-dmca-who-needs-s…
IPWatchdog post from a couple of years ago, describing his own experience very similar to the way you describe yours and how he dealt with sending a DMCA "take down" letter, complete with a sample form that he grants permission to use (but please note his disclaimer) – http://ipwatchdog.com/2009/07/06/sample-dmca-take-down-letter/id=4501/
DMCA.com is a company mentioned in another IPWatchdog post that will sell you a DIY Takedown Kit for $10, or do a "Professional Takedown" for you at $199 that they say is "100% Guaranteed" (they also have free badges and a WordPress plugin on their homepage, but I have no experience to share on any of their stuff) – http://www.dmca.com/Takedowns.aspx
Oh, and Stephanie's problem that started the discussion? Well, she took a strong, but slightly softer approach, and I'm happy to say she reports that the page where her post was "repurposed" is now blank.
Any other experiences you've had with content pirates, or resources to share for dealing with them?