by: Carol Bryant
Would you go to a membership-based dog-friendly social club? Danny Frost co-founded Ruff Club with his wife, Alexia Simon
Frost and Leo, the couple's three-year-old miniature Australian Shepherd. 
They opened in January 2013 on the Lower East Side of Manhattan.  Ruff Club is
a new kind of place where you can deepen your relationship with your dog.
 It's a membership-based "dog-friendly social club. Sound interesting? Wonder where pet bloggers fit in the mix? Read on…
"If you're a member, you can hang out with your dog
anytime in a century-old, repurposed tavern space with wifi and self-serve
locally roasted coffee," Frost says. "Some of our members are freelancers or creative
folks who use Ruff Club as a dog-friendly co-working space."
Frost spoke at a New York City tech event, along with other leaders in the pet industry. From that event came the line, "the pet industry is ripe for disruption," so I asked Danny what that meant and where he fits in that mix.
Frost says, "We feel the traditional pet care setting leaves owners on
the sidelines.  I remember interviewing local dog people as we
developed our business plan.  One said that leaving his Jack Russell
Terrier at a traditional daycare "felt about as special as dropping off my
clothes at the dry cleaner."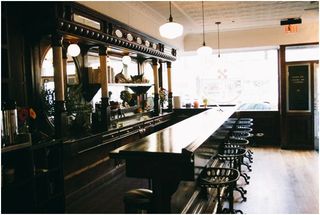 Photo by Will
Russell Photography, with permission granted.
He continues, "This was the way we felt when Leo
was in traditional daycare — like it was a place where you dump your dog, and
then you come back in and give some money, and then they give you your dog
back.  We wished as consumers that we could use pet care as a way to learn
more about our dog, not less.  We were also interested in meeting
other local dog people and sharing ideas and information.  The traditional
daycare model we knew offered no avenue for this stuff, and no way to
learn about the dogs Leo was spending his days with – to us they were just a
nameless, ownerless cast of animals. "
So where is the disruption? According to Frost, these are some of the things that he's identified as ripe for disruption
in the pet sector.  "We're trying to restore the owner's role in the pet care
equation and develop a local community of dog owners."
I asked him if pet bloggers an important part of that
disruption and are brands and pet parents listening.
"I think there will always be a place
for longer-form pet content because animals, our relationships with them, and
how we should care for them are incredibly complex matters.  As
a brand and as individuals responsible for the safety
and socialization of large groups of dogs, we certainly
"listen" to certain expert bloggers."

So what is Ruff Club doing to stay on the cutting edge?
Frost thinks the future of pet care is in using technology to stay better connected
with your "fur child" throughout the day.  Ruff Club is doing that with
high-definition live streams, real-time social media updates, and plenty of
individualized attention and convenient ways to communicate.  They've also
outfitted our clubhouse with a Fitbark base-station,
meaning our members will be able to get quantified, individualized data about
their dog's activity levels in real time as this technology comes online.
Frost shares, "We also just do
whatever we can as a brick-and-mortar to use technology to update the dog
daycare model.  We're cashless, we're virtually paperless, and we can
coordinate care in an instant over email or Twitter, or
you can even text our phone number.  There's no physical
commerce that actually goes on at Ruff Club – it's just your account in
the cloud."
Check out Ruff Club by visiting http://www.ruffclub.com/
Catch the other interviews in the pet industry series:
Brock Weatherup Interview with BlogPaws
Alejandro Russo Interview with BlogPaws