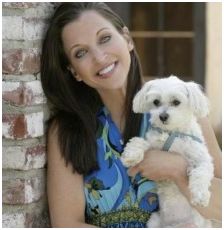 By Carol Bryant
Some people sparkle with such an aura and give back to the pet world so much, what a joy it is when paths cross and one gets to meet them. In our BlogPaws Speaker Series, we've been introducing you to our BlogPaws featured speakers. Not only can you listen to these experts in person in June, but also ask them questions and network.
On Saturday night, June 23, pet lifestyle expert, author, humanitarian and television personality, Wendy Diamond (Animal Fair), will be our emcee of the BlogPaws Nose-to-Nose Blogger awards! During the red carpet celebration at the national social media marketing conference, Wendy will announce the winners, hand out the awards, and network with everyone.  So just who is Wendy?

With the mantra of BlogPaws proudly proclaiming to "Be the Change for Pets," Wendy is a voice for animals in need, seeking to improve the quality of lives for all animals homeless, sheltered, endangered, or otherwise. To date, BlogPaws conference sponsors and attendees have enabled BlogPaws to donate over $35,000 in cash and pet-related items at their three conferences to date. Wendy will fit right in, with her philanthropic spirit of giving and caring.
We met Wendy at the Betty White Friars Club Roast recently, with her adorable pooch, Lucky, and are thrilled to have her give a resounding "yes" to emceeing the BlogPaws Nose-to-Nose Blogger Awards!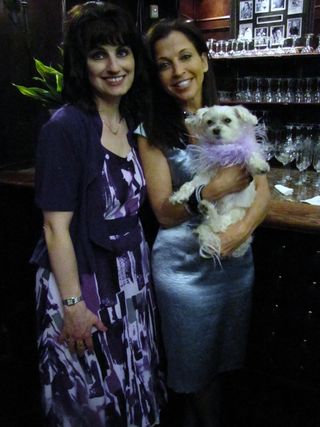 Fast Facts About Wendy:
Where Have You Seen Her?  You might have seen Wendy on a variety of different television shows, including The Today Show, The View, Good Morning America and in magazines such as People, The New Yorker, and Oprah, amongst others.  
Where is Wendy from: Chagrin Falls, Ohio
What About Her Animal Involvement? As Wendy tells it, "Outreach has always been at the forefront of my animal rescue and welfare mission, and became even more real for me when Lucky was diagnosed with canine cancer. Through active media mindshare and by filming a documentary, I hope to raise awareness and search for answers to help find conventional and holistic preventions/cures for this fatal disease, especially since 1 in 2 dogs will get cancer during their lifetime.  Lucky is getting married July 12 so hope you can join us celebrate one of the luckiest dogs in the world! Lucky and I will never give up on the good fight; please join us to promote fairness to animals and make a difference!"
Follow Wendy and Lucky on Twitter and Facebook for the best that the pet lifestyle has to offer!
Sign up for BlogPaws 2012 and say hello to Wendy  in person. See you there! Hurry, time is ticking and the big event is fast approaching! Here's the "reel" deal on Wendy: