Post by Blog Manager Robbi Hess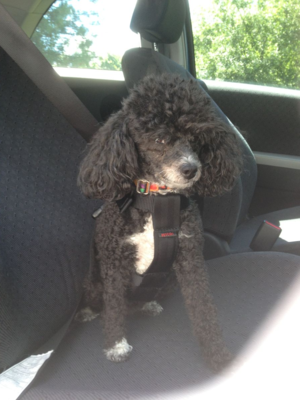 My, how the times have changed! When I was a thirteen-year-old and my siblings were ten- and nine-years-old we rode from New York to Florida in the back of my dad's pick up truck. It had a cap and was padded with dozens of sleeping bags and blankets and I have to say we felt safe and secure. Fast forward to when I had my children and you couldn't even leave the hospital with an approved child safety seat. No sliding around the back of the car Matilda-style for my infants. 
If memory serves, we rarely traveled with our family pets unless it was to take them to the vet's office and when we did, they piled into the backseat of the family station wagon and away we went. Today, pet parents strap their beloved four legged family members into a safety harness before hitting the road. The day I brought Henrietta, the Diva Poodle, home to live with me she was so tiny that there wasn't a harness I could find that would fit her so I drove (rather unsafely, I know) with her wrapped in a blanket on my lap. As she grew, she became accustomed to being strapped into a safety harness and today she will whine and pace the car seat if I even attempt to put the vehicle in drive without first strapping her in. 
Pet parents today travel in safety and style with their pets, whether it's cross country or just across town through the use of car safety seat belts, booster seats with safety straps or by securing them in the back of the vehicle. As part of BlogPaws's Pet Safety Month, we are giving away a pet safety belt that has been generously donated by one of our BlogPaws Community Members, Dawn Ross. 
In addition to making certain Fluffy and Fido are safety secured, whether in a pet safety harness or in a crate, during a car trip here are other travel safety tips to keep in mind: 
If your pet isn't accustomed to riding in a car, start with small road trips to get him ready for a long trip ahead. 
Make certain your pet only eats a light meal about four hours prior to the trip and never feed her in a moving vehicle. 
Plan to make frequent stops along the way to both answer Nature's call and to give your pet a chance to stretch his legs and get a drink of water. 
 Make certain you have all of your pet's favorite foods, treats and toys
Don't leave home without your pet's medical records and any medication he may take on a regular basis. Also, don't forget to pack a pet first aid kit
If you haven't already, you may want to get your pet microchipped in case she gets lost on the trip. If you have her microchipped already, make certain the information on your microchip is up to date. Keep a collar on her while you drive that has a tag with your cell phone number 
It may look like fun, but don't let your pet hang his head out the window when you're driving. Flying debris can injur his eyes
Remember, too no matter what you do, never leave your pet in a parked vehicle. You will need to plan your own restroom breaks at pet-friendly rest stops or make certain you have a traveling companion that can stay in the vehicle with your pet.