by Carol Bryant
The Friday Five has arrived. There are so many people I meet who want to come to BlogPaws in person and say they either a) don't have the funds to do so and/or b) can't take the time away to come but would love to be in Utah with us in June. We have some rescue relief, incentive to get you there, and ways to participate even if you are not with us in person! Counting down from number five we have…

5 Social Media Pet Blogging Awards: Nominate your favorites! This is the only awards program where pet bloggers (and pet people who "microblog" on Twitter and Facebook) are being judged by a panel of distinguished professionals on their expertise, creativity, and performance in one or more of 12 categories. Best of all, The BlogPaws Nose-to-Nose Awards are not a popularity contest! Hurry, ends May 6th!
4 Livestreaming: Live Stream For All: Live Streaming and Recorded Sessions from BlogPaws 2012 Announced:  Two full tracks of the breakout sessions at BlogPaws 2012 will be live-streamed and recorded for later viewing. Participants can chat in real time and social media during the conferences.
3 Celebri-Dogs: Guinness World Record "Fastest Skateboarding Dog," Tillman, and television's famed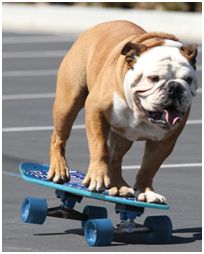 "Super Scooter Dog," Norman, will kick off BlogPaws 2012. Hundreds are expected to attend BlogPaws, the original social media pet community and international marketing conference for pets and their parents. The "bark" has been set high with a record attendance expected for the fourth annual conference landing in Salt Lake City.
2 Master Class: Dog Files Filmmaker to Host Video Production Workshop at BlogPaws: Kenn Bell, creator and executive producer of video series and website, Dog Files, and the Animal Planet special, Hero Dogs of 9/11, will host a three-hour master class at BlogPaws 2012 on Thursday, June 21, 2012 from 2 p.m. to 5 p.m. Hurry, limited seating!
1 Veterinary Sessions Open to All: BlogPaws has a few vet world oriented sessions on Saturday, June 23, and all are welcome. These sessions are not just for veterinarians, but for the anyone who registers and attends BlogPaws. Woot!
If you love pets, blogging, social media, networking, and/or microblogging, then BlogPaws is this year's must-attend event. And it's pet friendly! Don't leave your pet aka family member at home. Bring them along!
We'll see you there!!!