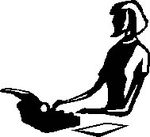 Many of us use Word to create blog posts. Or, other documents that relate to our blog business. Here are some tips on moving around your Word document, quickly and easily using your keyboard.
Some of this information came from bNet.com – but, the document I printed did not have a unique URL and visiting the site gives me no joy. SO – I am citing my original source, even when that source has no way for me to send you to the exact page. There were 50 tips on the free document I downloaded.
Here we go:
Want to Undo? Use Ctrl-Z. Also, click the Undo button on your edit menu…it's the icon of a reverse arrow at the top.
 Need to move around the document? To go to the beginning, use Ctrl Home. To the end? Ctrl End. To get to the next page of your doc… Ctrl Down. Back where you were? Ctrl Up.
To select specific text, you can highlight using your mouse, of course. Or, you can double-click a word to highlight it, or hold down the Shift key and use your arrow keys to highlight text. To highlight a whole sentence, hold down the Ctrl key and click anywhere in the sentence.
To select a paragraph, triple-click in the paragraph or move your mouse to just outside the left margin, when it turns to a right-pointing arrow, double-click and the whole paragraph will be selected.
To save a document which you are working on in edit mode (sharing with someone else, perhaps), use Save As. At BlogPaws, we often use our initials in a Save As, with a date – so we always know which edits belong to which person working on the document and when those changes were made.
To find just the right word – highlight the word you'd like to change or be more specific with – right click your mouse and choose "synonym"… your thesaurus will give you a list of words that mean the same thing.
To create plain text in a document (when you've grabbed it off the web, for instance)… copy the text and place your insertion point on the document where you want to paste the text, then open your Edit menu and choose "paste special" – select the Unformatted Text option.
To jump between documents if you have more than one open, use Ctrl F6; using Ctrl Shift F6 will jump you backwards.
To locate specific words within a document (because you need to find a sentence or paragraph) sue the Find tab – open it by suing Ctrl F… you'll get a search box where you can tell the tool what you're looking for.
Don't delete old text – just type over it. Highlight your text using tip #3 and type away. Your old text will be replaced by your new text.
Using Word isn't as hard as we sometimes make it. By getting used to these simple tips, you can save time and worry. What other tips can you share?