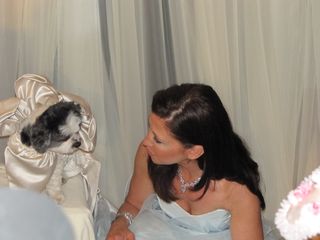 by: Carol Bryant
The most expensive pet wedding in history was held in New York City at the Jumeirah Essex House on Thursday evening, July 12, 2012. And BlogPaws was there for all the coverage. The entire event was done in the name of giving back to animals. All donations and proceeds from the event benefit the Humane Society of New York.
With a front row seat for the extravaganza, we watched as Baby Hope Diamond, Coton de Tulear of pet humanitarian and television personality, Wendy Diamond, wed Chilly the Poodle, belonging to Jake and Lori Pasternak.

Representatives from the Guinness Book of World Records were in attendance to announce the canine commitment with all its trimmings is a new record holder. Dubbed the "Most Expensive Pet Wedding," Diamond spent nearly $158,000 and broke the previous world record set by two cats in Thailand in 1996 (then a mere $16,241). With all receipts totaled, it is believed the gala will hit a grand total of $250,000.
Check out our video and read on below…
Triumph, the Insult Comic Dog, was master of ceremonies and officiated the official knot tying between these two canines. "If these two dogs could talk, they would look around this room and what everyone has done for them … And they would say, this is insane! Seriously? We're DOGS! You people are cuckoo," he said, before launching into the vows.
The Cake Boss television show was present and taping the extravaganza for a future episode. Their five-tiered wedding cake with sugar orchids and model dog high atop sashayed onto the dance floor as the Hank Lane Orchestra entertained the crowd.
Pooches were able to satisfy their hunger at the Halo-sponsored dog food buffet while their human counterparts dined at elegantly stationed food stations from sushi to Mexican.
Entertainment is a staple at any wedding reception, and this dog wedding was no exception.  The Hank Lane Orchestra entertained the crowd all night long and a special highlight included up and coming pop/opera singer, Nathan Pacheco.
Wendy Diamond was the star emcee for the 2012 BlogPaws Nose-to-Nose Blogger Awards. 
Be sure to join us at the BlogPaws 2013 Conference and connect with us on our free community boards year-round.