We will be kicking off a four week Spring Clean Your Blog series facilitated by Kimberly Gauthier of Keep The Tail Wagging. She is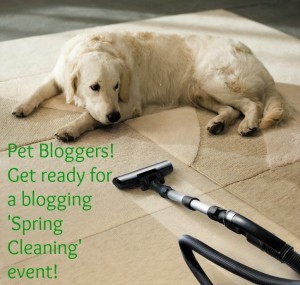 helping bloggers undertake a spring cleaning event for their blogs to get them in shape for summer (and the BlogPaws Conference!)
You can read Kimberly's posts here every Monday and each week there will be a call to action and instructions on what you can do to 'spring clean' your blog.
Week 1 (April 7) will be: Submit your blog for honest, kind, constructive feedback
Week 2 (April 14) will be: Improve your site's SEO (search engine optimization)
Week 3 (April 21) will be: What are your blogging goals?
Week 4 (April 28) will be: Let's chat about the feedback you've received
If you've ever wondered if your blog needs a tune up and you just need a friendly pointer in the right direction, you will want to mark your calendars and participate in this spring cleaning event!