by: Carol Bryant
One
wonders if the weather forecasters had Frankenweenie on their minds when they
dubbed the huge storm expected to hit the East Coast. It is ominously, and in
homage to Halloween, called "Frankenstorm." Puns and names aside, this storm
could do some serious damage.
Meteorologists expect a mess combining high wind, heavy
rain, extreme tides and maybe snow to the west beginning early Sunday, peaking
with the arrival of Hurricane Sandy on Tuesday and lingering past Halloween on
Wednesday.
I
never thought I'd have to evacuate my residence in an emergency situation. In
the past, I'd counseled others via the written word on how to do it and even
had an "emergency plan" of my own in place. I just never thought I'd need to
implement those best laid plans.

Then
last year happened. The river rolled and the waters rose. On Thursday,
September 8, 2011, the Susquehanna River threatened to overflow her banks and
surpass the levee system designed to keep the flood waters back, a sea of
thoughts, unexpected emotions, and several doses of panic ran through my mind.
In other words, I had to get out. Here is what I did and what you need to keep
in mind in preparation before, during, and after nature's fury wreaking havoc.
Food
and treats (an ample supply)
Water
: Officials cautioned a week's supply. When I evacuated, it was to a dog-friendly
home located two hours away, so not an issue.
Food
and water bowls: Indeed.
Medications
and vaccine records. I then stored these in plastic baggies. All of my
dog's items are centrally located in one closet of the house with the
exception of food and vet records. If you have a ZIP drive, take it with
you.
Photographs
and ID: For safety, security, comfort but also in case Rover goes missing.
Please please please do not leave the dog behind. If you couldn't escape
flood waters, neither will Fido.
Extra
leash and harness, any bedding and toys
A
safe place of retreat that ALLOWS dogs: Having made several calls the
night before the mandatory evacuation, pet-friendly hotels within 2-1/2
hours were booked. Be sure to have somewhere to go for backup, a place to
crash temporarily, and one that allows dogs. I'd have slept in my car of a
vacant parking lot if I had to; but I didn't. Dog-welcoming friends made
our emergency escape feel more like a needed retreat. Happily, the
majority of local emergency makeshift shelters allowed pets – as long as
you had a kennel and vaccine records. If you titer your dog, keep copies
of those as well.  Write phone numbers down of these locations; more
than one, in fact.
Pet
first aid kit, extra leash, toys , treats, dog bed/kennel/comforts of
home.
Whether flood,
fire, hurricane, tornado or other natural force strikes, it is always a good
idea to have these items ready to use:
An evacuation
plan: Map or GPS of how to leave your community and where you are going
Several days'
worth of supplies to sustain you, your family (including pets)
First aid kit
Non prescription
and prescription medications
Sanitary and
hygiene items and toiletries
Flashlights,
batteries, a weather radio to monitor changing weather conditions
RedCross.org
lists everything you would need and more tips on their website. Stay safe, everyone!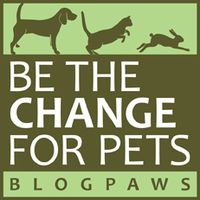 BlogPaws and World Vets, with the help of Dr. Jessica Vogelsang, are joining forces to create  The Blogger Disaster Response Network and we are inviting any interested blogger to sign up and be a part of it!